Scheda a circuito stampato (PCB ) la fabbricazione in Thailandia è un'industria importante nel paese, ci sono migliaia di fornitori di PCB in Thailandia, grande e piccolo, to provide PCB manufacturing services to customers from all over the world. Secondo le statistiche, the annual export value of PCB in Thailand is as high as 7155.14million USD, e the sales value of PCBA in February 2022 alone reaches 10.4 billion Thai baht.
Thailand has cheap labor and a mature electronics manufacturing industry chain, so many companies are more willing to cooperate with Thai PCB manufacturers, but do you know how to find a suitable PCB manufacturer? There are many factors you need to consider, such as PCB quality, manufacturer's capabilities, costi di produzione, tempo di consegna, e altro ancora. But it is always a good idea to cooperate with a reputable and experienced PCB supplier, in questo blog, we have provided the following list of the top 10 PCB suppliers in Thailand for your reference, let us read on.
A List of Top

10 Fornitori di PCB in Thailandia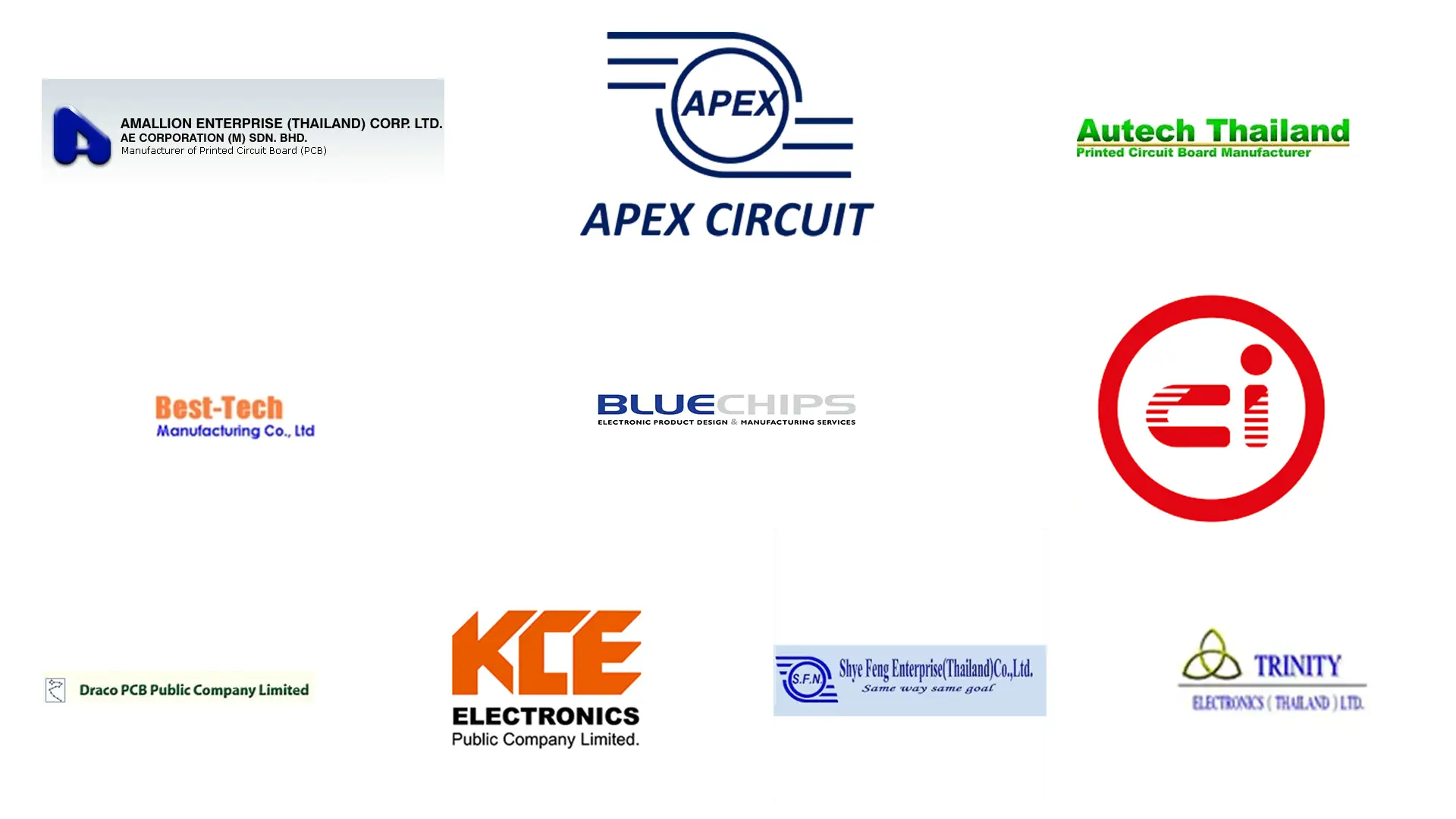 Apex Circuit

(Tailandia) co., Ltd
Apex Circuit (Tailandia) co., Ltd was founded in September 2001. Con più di 20 years of experience in the PCB industry, now it has grown up to be one of the best PCB suppliers in Thailand. Its ground area is up to 140,000 metri quadrati, and there are more than 7000 employees at Apex Circuit, providing high-quality circuit boards for customers in a wide array of industries. They are specialized in the fabrication of rigid printed circuit boards, double-sided PCBs, and multi-layer boards, certified with ISO 9001, ISO 14001, and ISO/TS 16949. They are committed to providing the highest quality and most reliable PCBs while providing customers with competitive prices and on-time delivery.
Amallion Enterprise

(Tailandia)

Corp.,ltd
Amallion Enterprise (T) Corp Ltd is one of the most reliable printed circuit board manufacturers in Thailand. Their group chairman is a pioneer in PCB manufacturing in Malaysia who founded AE Corporation (M) Sdn. Bhd in 1987. Taking advantage of the potential of the Thai market, the p chairman established Amallion Enterprise (T) Corp Ltd in Thailand in 1999 to expand manufacturing capacity. This company has strong PCB manufacturing capabilities and rich professional knowledge. Since its establishment, they have been providing cost-effective and high-quality PCB services to customers. They have cooperated with world-renowned companies, including Samsung, Sharp, LG, Delta, and Toshiba, and provide PCBs used in various household appliances, remote controls, power supply units, and other applications.
Autech Thailand
Autech Thailand was originally established in Taiwan in 1978, when it was the first PCB drilling subcontracting company in Taiwan, and moved to Thailand in the 1990s. Da allora, it has started to provide full coverage PCB manufacturing services from PCB fabrication to PCB assembly and testing. The company's main products are double-sided PCBs and multilayer PCBs. It has a land area of 12,800 square meters and a construction area of 5,400 metri quadrati. With extensive industry experience, they are able to provide high-quality and cost-effective printed circuit boards to customers around the world.
Besttech Manufacturing Co.

, Ltd
Besttech Manufacturing Co., Ltd was established in Pathum Thani, Thailand in 2003, mainly to provide customers with high-quality, fast-turnaround printed circuit board (PCBA) assembly services, specializing in surface mount, through-hole assembly, and mix technology. They are also a subcontract manufacturer of services for the electronics industry, in addition to PCB assembly services, they also provide PCB fabrication services, box build assembly, in-circuit, and functional tests, raw material procurement, and other services. With their competitive prices and punctual delivery time, they are one of the most popular Thailand PCB suppliers.
Bluechips Microhouse Co.

, Ltd
Located in Northern Thailand, Bluechips Microhouse is a highly professional PCB supplier that provides customized PCB services. Cosa c'è di più, this company provides full box-build products for customers in a variety of industries such as medical, IoT, elettronica, e così via. Their production site is equipped with state-of-the-art machinery including SMT lines, saldatura ad onda, and selective soldering machines. Leveraging strong and flexible production capacities, they are capable of handling any mix or volume of product at fast turnaround times. Inoltre, this company has strict quality control for their products as they are a German-owned company, which means working with them allows you to get high-quality products at competitive prices.
Circuit Industries Co.

, Ltd
Stabilito in 1990, Circuit Industries Co., Ltd. is a top-tier printed circuit board (PCB) manufacturer in Thailand, con 65 million baht of registered capital. It specializes in fabricating a variety of printed circuit boards, including single-sided PCB, double-sided PCB, PCB multistrato, PCB in alluminio, eccetera. Its factory covers an area of 7200 square meters and is equipped with state-of-the-art equipment that allows them to deliver products at fast turnaround times, no matter it is prototypes or high-volume production. Ma ancora più importante, they put high attention to quality control, from the selection of raw materials to stringent inspection at every procedure. They follow high industry standards and obtained certifications including ISO 9001:2015, ISO 14001:2015, ISO 45001:2018, IATF 16949:2016, and TLS 8001:2010.
Draco PCB Public Company Limited
Draco PCB was founded by Chin Poon Industrial Taiwan and Viptel Co., Ltd in 1989, and they were successfully listed on the Stock Exchange of Thailand in 1994. And now it becomes a leading PCB supplier in Thailand and even in the whole of Southeast Asia. This company has rich experience in providing all kinds of circuit boards and specializes in manufacturing single-sided, double-sided silver through-the-hole, double-sided plated through-hole rigid PCBs. "Qualità, Costo, Consegna, Servizio, Sicurezza, Efficienza, Ambiente, and Execution" is what drives them forward, making them keep making progress and becoming a PCB supplier that satisfies all customers.
KCE Group
KCE Group, formerly known as Kuang Charoen Electronics Company, è stato stabilito in 1983. Attualmente, the group has grown into a company listed on the Stock Exchange of Thailand. It owns four companies, namely KCE Electronics, KCE Technology, and KCE International, which are mainly engaged in the PCB business, and Thai Laminate Manufacturing Company, which produces raw materials. In addition to producing PCBs and providing PCB customization services, the group also has a PCB distribution business. The PCBs they produce comply with ISO, TS 16949, and IPC standards and are used in various industries including automotive, industriale, telecomunicazioni, eccetera.
Shye Feng Enterprise

(Tailandia) co., Ltd
Shye Feng Enterprise (Tailandia) Company is established in January 1990, it is a well-known PCB supplier in Thailand, specializing in providing single-layer printed circuit boards. Their factory covers an area of 8,680 metri quadrati, e 300 well-trained employees work here. With a production capacity of up to 120,000 square meters per month, this company can provide fast and cost-effective PCB manufacturing services. And their flexible service and 24-hour quick response make them one of the most popular Thailand PCB suppliers
Trinity Electronics

(Tailandia) LTD.
TRINITY ELECTRONICS was established in May 2005 and has 17 years of experience in handling a wide range of printed circuit boards and PCB assemblies from simple to complex. Inoltre, they offer box build, assemblaggio del cablaggio, and PCB stencil services. They have a highly skilled workforce and high-tech equipment, which enables them to handle small to high-volume production and ensure on-time delivery. TRINITY ELECTRONICS complies with the ISO9001 quality management system and all processes are carefully monitored and controlled to ensure that its products meet high-quality standards.