With rich experience and comprehensive expertise, MOKO can always provide customers with high-quality and reliable BGA PCB assembly service.
Full Coverage BGA PCB Assembly Services
Our BGA assembly services cover a wide range, including BGA prototype development, BGA PCB assembly, BGA component removal, BGA replacement, BGA rework and reballing, BGA PCB assembly inspection, enzovoort. Leveraging our full-coverage BGA services, we can help customers streamline the supply network and accelerate product development time.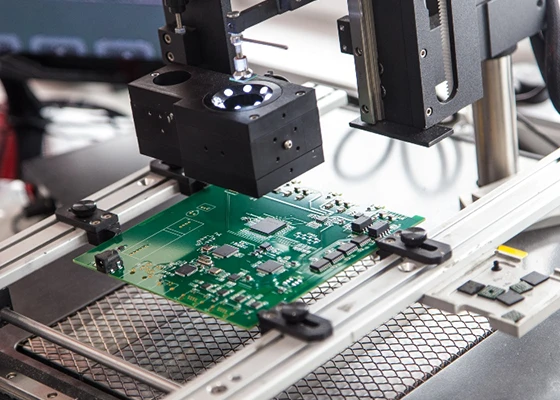 Stringent BGA PCB Assembly Testing Process
To achieve the highest quality standards for BGA assembly, we use a variety of inspection methods throughout the process including optical inspection, mechanical inspection, and X-ray inspection. Onder hen, the inspection of BGA solder joints must use X-rays. X-rays can pass through the components to inspect the solder joints below them, so as to check the solder joint position, solder joint radius, and solder joint thickness.
Benefits of BGA PCB Assembly
Efficient Use of Space – Dankzij de BGA PCB-indeling kunnen we de beschikbare ruimte efficiënt gebruiken, so we can mount more components and manufacture lighter devices.
Better Thermal Performance – For BGA, the heat generated by the components is transferred directly through the ball. Daarnaast, the large contact area improves heat dissipation, which prevents overheating of components and ensures long life.
Higher Electrical Conductivity – The path between the die and the circuit board is short, which results in better electrical conductivity. Bovendien, there is no through-hole on the board, the whole circuit board is covered with solder balls and other components, so vacant spaces are reduced.

Easy to Assemble And Manage – Compared to other PCB assembly techniques, BGA is easier to assemble and manage as the solder balls are used directly to solder the package to the board.

Less Damage to Leads – Voor het vervaardigen van BGA-kabels gebruiken we massieve soldeerballen. Vandaar, there is a lesser risk that they will get damaged during the operation.
BGA PCB Assembly Capacities at MOKO Technology
µBGA

,

CTBGA

,

CABGA

,

CVBGA

,

VFBGA

, LGA,enzovoort
Minimum pitch sizes 0.4mm




placement accuracy

+/- 0.03 mm
0201, 01005, KNAL, 0603, en 0402
ISO 9001,

IS014001

, ISO13485, RoHS, IPC, enzovoort.
Kies MOKO als uw kant-en-klare PCB-assemblagepartner

Kwaliteitsverzekering
We fully comply with the ISO quality management system and all processes meet the highest quality standards for BGA PCB assembly.

Strong Assembly Capacities
MOKO is capable of handling almost all types of BGA, assembling BGA components from small to large sizes, including fine pitch BGA.
In-depth Expertise
We have a BGA assembly team composed of professional engineers and IPC-trained employees, providing technical support throughout the process to ensure high reliability.
Contact Us to Get Top-notch BGA PCB Assembly Service