In de afgelopen jaren, de Indiase PCB (Printplaat) markt heeft zich snel ontwikkeld, zoals gerapporteerd door IMARC Group, de Indiase PCB-markt bereikte een waarde van 3.8 Miljard dollar binnen 2021, which is expected to reach 10.7 Billion dollars by 2027 with CAGR of 18.7% during 2022-2027. With the development of the market, batches of excellent PCB suppliers in India have emerged who can provide reliable PCB manufacturing and assembly services for customers at home and abroad. As an experienced PCB manufacturer, MOKO has listed the top 10 PCB suppliers in India with its 16 years of industry experience, hoping to be helpful to readers who want to know about Indian PCB manufacturers.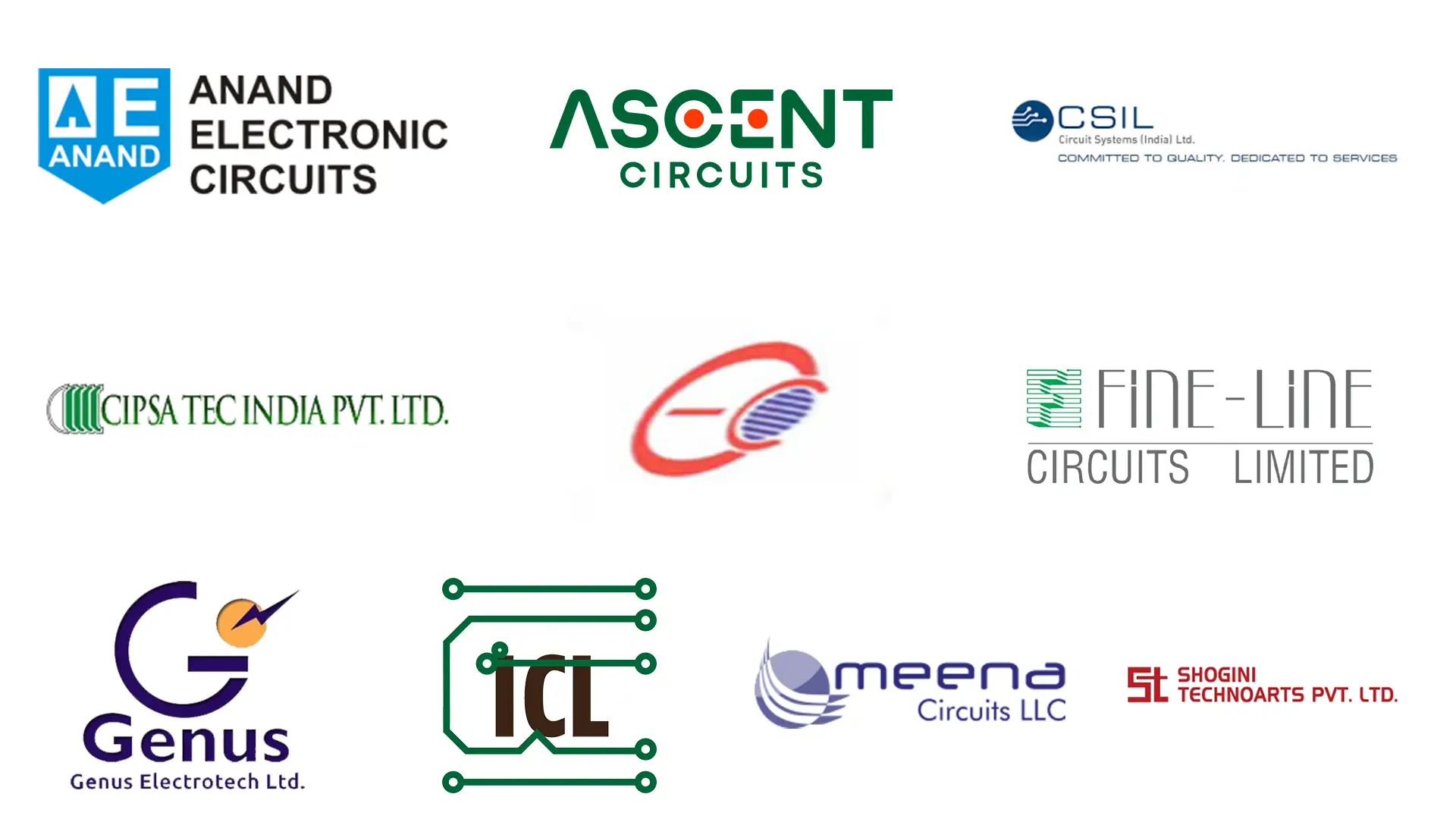 Anand Electronics
Anand Electronics was established in 1974, located in Tamil Nadu, India which is very close to Bangalore. With cutting-edge equipment, advanced technology, and experienced staff, this company has grown to be one of the best PCB suppliers in India. They are able to meet different requirements by providing one-stop PCB services from PCB design, and PCB manufacturing to PCB assembly. Daarnaast, they work closely with the design and procurement teams to provide customers with cost-effective and high-quality services. They are proficient in the production of printed circuit boards, providing rapid prototyping as well as mass production services with fast turnaround times.
Ascent Circuits Pvt

. Ltd..
Ascent Circuits is one of the largest Indian-owned PCB manufacturers with 600 employees in total. They specialize in manufacturing a variety of printed circuit boards such as Single-Sided, Dubbelzijdig, Multi-Layer, flexibel, and RF PCBs. They have over two decades of experience exporting PCBs worldwide, en over 50% of their products are exported to the US. Equipped with cutting-edge and highly automated facilities, Ascent Circuits is able to deliver premium products to customers at competitive prices and fast turnaround times. Their strong production capacities enable them to hand orders from prototypes to high-volume production runs. Belangrijker, they have a stringent quality control system to guarantee the high quality of each circuit board, their commitment to quality makes them become one of the top PCB suppliers in India.
CIPSA-TEC India Pvt

. Ltd..
Formerly known as CIPSA-RIC India Private Limited, CIPSA-TEC India has been operating for about 40 jaar. Nu, it is an international venture leading the PCB industry in India that partners with CIPSA, Spain, and TECNOMEC, Italië. Their factory is fully equipped, including SMT lines, DIP lines, placement machines, wave soldering machines, enzovoort. With industry-leading equipment and advanced technologies, they can provide a wide range of PCB manufacturing services, from engineering, PCB-fabricage, and PCBA, to quality control and other value-added services. They provide quick turn PCB service, en nog belangrijker, all processes are compliant with quality management systems, they are certified with ISO9001:2008, ISO-14001, and TS-16949:2009.
Circuit Systems India Ltd

.
Sinds 1995, Circuit Systems India has been providing diversified PCB services for customers across the world, from PCB design, PCB-fabricage, prototyping, en PCB-assemblage, to technical support and express services. The production site covers an area of 10,000 vierkante meters, equipped with state-of-the-art production machines, which allows them to produce various PCBs with different materials including FR4, koper, aluminium, enzovoort. Bovendien, they have a separate facility for prototype orders, offering quick-turn PCB service that can deliver PCBs from 24 hours to 3 weken, and their flexible manufacturing service meets different customer requirements well. Daarnaast, they provide competitive pricing without sacrificing quality. They are certified with ISO 9001:2008, TS 16949:2009, UL, and DNV.
Epitome Components Ltd

.
Opgericht in 1994, Epitome Components is a privately held company specializing in the production of single-sided PCBs. In 2007, the company entered into a joint venture with Trackwise, a British company, to start producing RF antenna PCBs for cellular networks, the radar and aerospace industries, and various high-end applications. Then in 2009, they started the manufacturing of double-sided PCBs. With its advanced infrastructure and huge production capacity, the company has become one of the largest PCB suppliers in India with a production capacity of 100,000 sqm/month. They have cooperated with many multinational companies including Nokia, Phillips, LG, Thomson, Flextronics, enzovoort.
Fine-Line Circuits Ltd
Opgericht in 1991, Fine-Line Circuits is a publicly traded company and also one of the top PCB suppliers in India. In het verleden 30 jaar, they have been committed to improving service, and technology, and expanding their product range. They specialize in manufacturing and assembling a wide range of PCBs, van eenvoudig tot complex. Fine-Line Circuits has very high requirements for product quality, they have passed ISO 9001:2008 en ISO 13485:2012 certifications. Their quality control starts from raw material sourcing and inspection, every process involved is monitored carefully. It is worth mentioning that the PCBs they produce are only for export, and the main exporting countries are the UK, US, Duitsland, and Switzerland.
Genus Electrotech Ltd

.
Located in Gujarat, Genus Electrotech Ltd. covers an area of 72,000 square meters and is one of the top PCB suppliers in India. The factories are equipped with advanced machines and skilled operators, enabling them to manufacture a diverse product portfolio, which is sold globally. The company provides integrated PCB solutions with services ranging from bare board fabrication, and PCB assembly to electronics assembly and repair. They have more than 20 years of experience and have served customers in different fields such as automotive, IT, consumentenelektronica, and communications. They have passed ISO9001:2000, 14001:2004 UL, BIS certification, and TS certification, with high-quality products and cost-effective prices, their PCB services have won praise from customers around the world.
India Circuits
India Circuits Ltd, formerly known as Garg Electronics, was established in the early 1990s in India, it has manufacturing facilities at Panchkula, Baddi, and Barwala, and a design team located in Delhi. Het heeft meer dan 500 employees from different departments to provide customers with integrated PCB services, from PCB design to manufacturing. India Circuits is dedicated to supplying all types of Single Side & Double Side PCBs by following the highest quality standards, they are certified with IATF 16949 -2016, ISO 9001-2015, ISO14001-2015, en UL. They upgrade technologies constantly to keep them always at the forefront of the industry and to better serve customers in different industries such as automobile, consumentenelektronica, industrieel, telecom, and energy.
Meena Circuits Pvt

. Ltd..
Gevestigd in 1981, Meena Circuits has manufacturing facilities in Coimbatore and Hyderabad equipped with state-of-the-art production equipment, specializing in single-sided, tweezijdig, en meerlaagse PCB's. As one of the largest PCB manufacturers in India, the company has more than 10,000 experienced and skilled employees. Bovendien, it has advanced PCB manufacturing technology, because of its deep cooperation with a US-based company – Amitron, so customers who cooperate with Meena Circuits can get competitive prices and American quality. For 40 jaar, the company has served customers in diverse markets such as automotive, communicatie, industrieel, en medisch.
Shogini Technoarts Pvt

. Ltd..
Shogini Technoarts was founded in 1979, with a production plant located in Pune, India, aan het bedekken 32,000 square meters of land area. It also has sales offices in Mumbai, Bangalore, Delhi, Hyderabad, Vadodara, and Kolkata. Door de jaren heen, the company has been engaged in the production of professional-grade printed circuit boards, specializing in the production of PCBs for cars, LED lights, and street lights. Nu, it has become one of the largest PCB suppliers in India. With advanced manufacturing technology and strong production capacity, it can produce single-sided to eight-layer PCBs, and its total annual production capacity is 200,000 vierkante meters. They are ISO 9001-2015 gecertificeerd, UL and LCSO approved, and their commitment to strict quality control has made them the first choice of PCB manufacturers in India.
Closing Words
It's not a small feat to provide PCB manufacturing and assembly services, it requires highly specialized knowledge, advanced production equipment, and rich experience, and not all PCB suppliers possess these elements. In India, the level of PCB suppliers varies from good to bad. It is also very difficult to choose a trustworthy PCB manufacturer among hundreds of PCB manufacturers, and it takes time and effort to do market research. The list we present is based on our years of experience in the market and full market research. Referencing this list can help you find the ideal supplier faster. These 10 PCB Suppliers are the top suppliers in India and they all provide high-quality PCB services in India and globally. They are good options if you are looking for a PCB manufacturing partner in India.