MOKO Metal Injection Molding
Ko hono ʻīʻī ʻo e huhu ukamea, toe ʻiloa foki ko e "huhu efuefu", ko ha founga faʻu ukamea ia ʻoku fakaʻaongaʻi ki ai e ngaahi misini ʻumea ke faʻu ʻaki ha ngaahi konga ukamea mo ha ngaahi fotunga kehekehe ke malu ai e kataki. Te ne lava ʻo ʻomi ha ngaahi kongokonga ukamea ʻi ha ngaahi sitepu faingofua tuʻo taha pe, he ʻoku lahi e ngaahi cavities ʻi he misini huhu, but the limitation is that the quantities of products per "shot" should not be over 100 grams, so metal injection molding is the best choice for making small metal items. It is much popular, and the finished metal components are used in many industries and applications such as electronics, ngaahi meʻalelé, aerospace and so on.
MOKO Technology offers one-stop injection molding solutions, we can turn your idea of the project into a feasible solution and finally form a market-competitive product. ʻOku fakapapauʻi ʻe heʻetau ngaohiʻanga koloa ʻi he fale ʻoku mapuleʻi maʻu pe ʻa e ngaahi sitepu kotoa lolotonga ngaohi ʻaki ke fakapapauʻi ʻa e tuʻunga lelei taha ʻo ʻetau koloa, Ko e MOKO ko hoʻo ʻalu ia ki he hoa ngaue ki he huhu ukamea.
Why Choosing MOKO Technology for Metal Injection Molding

?
Kuo mau maʻu certifications kau ai ʻa e ISO9001:2015, ISO14001, ISO13485, ROHS, BSCI, mo e UL, our metal injection molding process and products are qualified to international standards. We have the capabilities to produce metal parts with tiny tolerance, and the first-class equipment and professional quality control department to make sure that the products our customer receive are top-tier.
Our engineers have rich experience who can give professional suggestions about your projects and optimize the design of your 3D CAD if there is some problem, so the solution can be more workable and cost-effective.
Kuo maʻu ʻe MOKO certifications kau ai ʻa ISO9001:2015, ISO14001, ISO13485, ROHS, BSCI, mo e UL, ʻa ia ko hono ʻuhinga ʻe lava ke aʻusia ʻe heʻetau founga ngaohiʻanga koloa mo e koloa ʻa e ngaahi tuʻunga moʻui fakavahaʻapuleʻanga. You are free of the quality problem, ʻe lava ʻe heʻetau Potungaue pule lelei ʻo fakapapauʻi ʻoku lelei ʻaupito ʻa e koloa ʻoku maʻu ʻe heʻetau kau fakatau.
MOKO pays much attention to evolving fabrication processes and injection molding techniques, making sure our injection mold services are effective and economical. Our in-house production and advanced injection molding equipment can improve the efficiency of production, and our employees are well-trained and experienced who know how to work and communicate with clients efficiently.
Metal Injection Molding Product Display
How Does Metal Injection Molding Work

?
The raw materials of metal injection molding are metal powders and thermoplastic binder, the powder can decide the properties of the final metal injection molded products, as the binder is just an intermediate processing aid and need to be removed once the injection molding is finished. And the mixed material is called feedstock, which is normally formed with granule sizes of several millimeters.
The feedstock would be injected into the injection machine, it can be molded to different shapes ranging from simple to complex shapes, and we call the molded part as the "green part", which would be taken out of the mold when it cools enough.
This step can remove the binder by using different methods, hangē ko ʻení, we can use a catalytic process or thermal furnaces. This process can only remove part of the binder, there is still some binder in the parts that can be removed totally in the following sintering process, which is a method to form and compact materials by using pressure and heat.
The sintering process can eliminate the pore volume that is occupied by the binder before, so there would be a linear shrinkage of about 15-20% of the metal injection molding parts. And the sintered metal parts can be processed further by using some traditional metal processing methods like heat treatments that are used for casting components.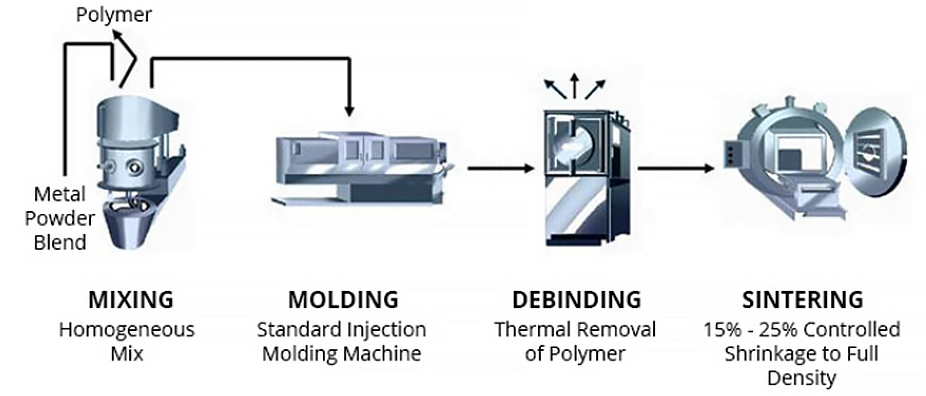 The Advantages of Metal Injection Molding Work
There are many cavities in one injection molding machine, which means it can manufacture a lot of products at one time. Makehe mei ai, the mold can be used repeatedly, so it can manufacture metal components in large volumes, from hundreds to thousands. Metal injection molding is a perfect technique for projects with huge quantities.
The surface of metal injection molded products is smooth, there are no burrs or tooling marks on the surface, which can save a lot of time as no secondary processing is needed.
Versatile Shapes Supported
Metal injection molding can mold metal parts with a variety of shapes, no matter how complex the shape is. Ko e ha mo ha toe meʻa, the shape and sizes are very accurate as the pressure to inject the material into the mold is high enough to make sure it can fill the mold in every corner.
During the process of metal injection, the metal waste is less except when mold production and debinding. There is no need to cut away excess material once injecting the feedstock into the mold, so it is also a very environmental technique.
Fie maʻu ke kamata e ngaue ki hono oʻi ʻo e huhu he ʻaho ni?
ʻOku tau fai ha ngaahi tokoni ki hono oʻi ʻo e ngaahi tuʻunga moʻui maʻolunga, tokoni ki hono ngaohi ʻo e leʻolahi maʻamaʻá, tufa ʻaukaí, pea tali vave ʻi loto 24 ngaahi houa.