As we all know, Malaysia's famous industries are rubber processing, and palm oil, but did you know? One of the fastest growing industries in this country in recent years is the electronics industry. More and more companies choose to invest in Malaysia to build factories and develop electronics manufacturing businesses, benefiting from its cheap labor force and great development potential. As the core of electronic products, PCB is an important export product of Malaysia. Now, Malaysia has become the 11th largest exporter of printed circuit boards in the world. If you are considering working with PCB suppliers in Malaysia, this article will inspire you. In the article, we explained the important considerations for choosing a PCB manufacturer and listed the top 10 PCB suppliers in Malaysia, let us read on.
How to Choose the Best PCB Manufacturer 
Choosing a reliable PCB manufacturer is the first and very critical step. Working With good suppliers can ensure the quality of printed circuit boards and on-time delivery. On the contrary, an unreliable partner may bring you huge losses and even ruin your business. So, facing so many PCB suppliers in Malaysia, how can we choose the best and most suitable one? We summarize the characteristics of some excellent PCB manufacturers including rich industry experience, compliance with industry regulations and certifications, strong manufacturing capabilities, on-time delivery, product testing, and after-sales service. Therefore, when choosing a supplier, it is necessary to compare and choose from these aspects. In addition, you can also refer to our other blog "How to Find the Best PCB Board Manufacturer?" for more detailed guidance. If you feel that this process takes too much time and energy, you can never go wrong by choosing to cooperate with the top and most famous suppliers. Their reputation and praise in the industry are good proof of their reliability.
Top 10 PCB Suppliers in Malaysia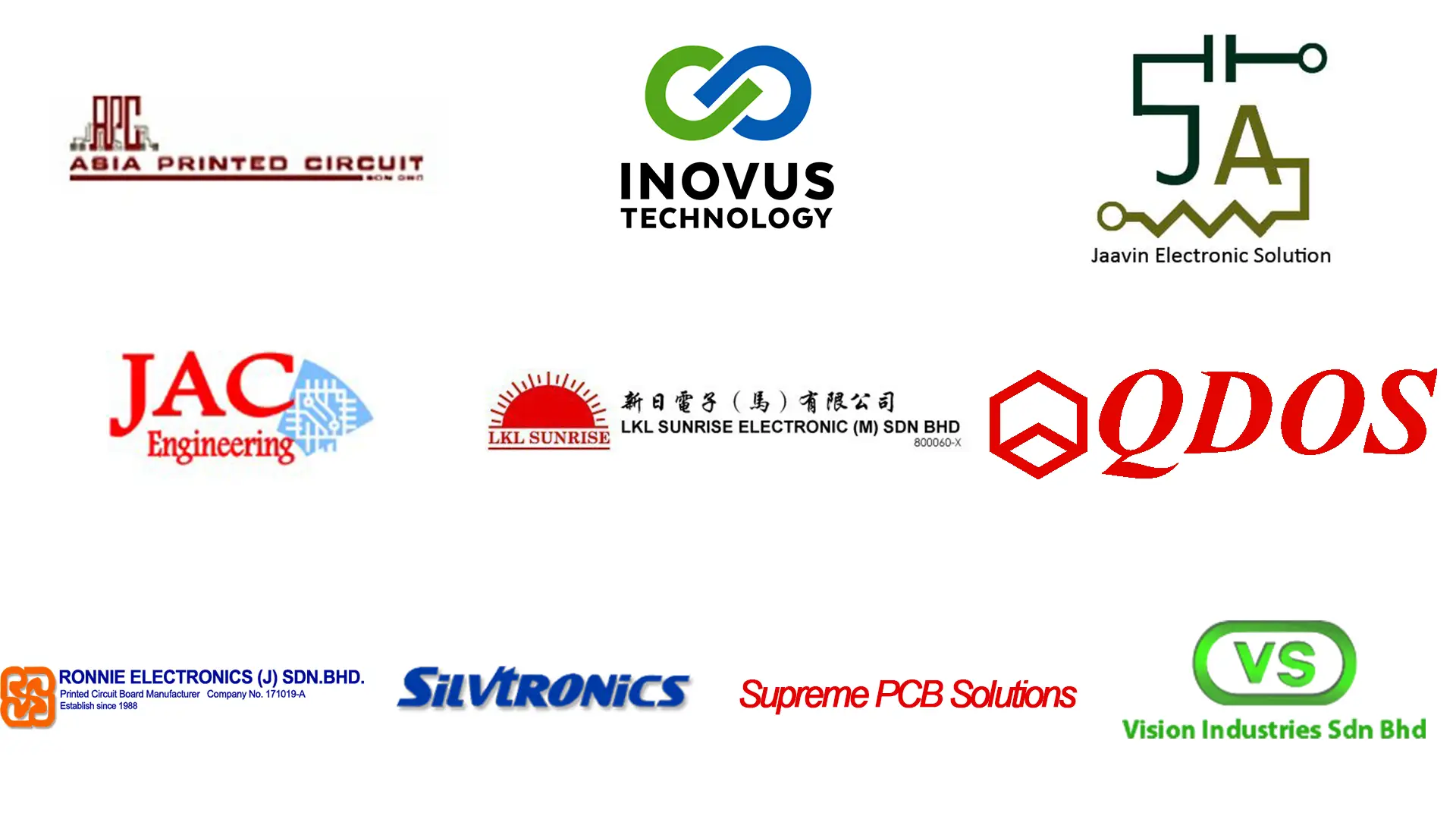 Asia Printed Circuit Sdn. Bhd
Since its establishment in 1994, Asia Printed Circuit has committed to providing high-quality printed circuit boards for customers worldwide. They specialize in manufacturing low- and medium-volume orders at fast turnaround times, for PCB prototypes, they can deliver them as quickly as 24 hours. More importantly, they pay high attention to quality control, you will never worry about quality problems working with them. Their processes are fully compliant with the ISO9001:2015 quality management system, in addition, they comply with UL, IPC Standards, RoHS, and REACH. Their strict quality control makes them always meet and exceed customers' quality requirements and become one of the largest PCB suppliers in Malaysia.
Inovus Technology
Inovus Technology was established in Malaysia in 1993 and opened its first branch in the Philippines in 2008, and now they have grown into one of the top PCB suppliers in Malaysia. With rich experience in the industry, they can meet the needs of customers from different industries with the highest quality solutions. They manufacture printed circuit boards for automotive, health, electronic equipment, telecommunications, and other industries. They have skilled employees, professional engineers, and advanced production equipment. In addition to PCB production and assembly, they can also provide module assembly and complete electronic product production services.
Jaavin Electronic Solution
Jaavin Electronic Solution Sdn. Bhd was founded in 2012 by S.Jegeswaran (Jay) and V.Aravinthan (Aravin). This company provides one-stop PCB solutions, from the electronic circuit and PCB design, and product development, to prototyping and mass manufacturing, they have got you covered. Among them, they are particularly good at electronic PCB design, providing electronic circuit design services for various applications, from simple to complex, and related consulting services can also be provided. With their professional knowledge and manufacturing experience in the PCB industry, they can meet the manufacturing needs of small batches to large batches and everything in between.
JAC Engineering Sdn. Bhd.
JAC Engineering was established in Malaysia in 2009 by a group of engineers, providing services covering circuit design, PCB manufacturing, and production. Thanks to their profound professional foundation and PCB design experience, they provide design services for customers from various industries such as consumer goods, LED, building automation, and automobiles, and have received unanimous praise. In addition, to expand their PCB manufacturing and assembly capabilities, they have partnered with leaders in the PCB assembly field to manufacture high-quality PCBs. In addition, they closely monitor the various processes and timelines of the project to ensure that they can provide the best results for the client within the budget of the client.
LKL Sunrise Electronics(M) Sdn Bhd
With more than 20 years of electronics manufacturing experience, LKL SUNRISE ELECTRONICS(M) SDN BHD is one of the most reliable PCB suppliers in Malaysia. They offer competitive pricing, and a wide range of services, including PCB fabrication and assembly, electronic circuit design, prototyping and stencil making, multi-layer PCB, FPC, and more. They provide high-quality PCB services for various applications including wireless call systems, control systems, power switches, etc. In order to better meet customer needs, they set up two companies in Petaling Jaya to provide wholesale and retail services.
Qdos Tech
Qdos Tech belongs to Ruihua Group, a company listed on the main board of Malaysia. Qdos is a company focusing on flexible printed circuits (FPC), providing circuit design, prototype manufacturing, mass production, and assembly services. They cooperate with manufacturing and assembly plants and implement product quality control themselves, so they can provide customers with competitive prices and fast turnaround times without compromising quality. The PCBs they offer to meet industry standards and consistently satisfy customers from various industries, are ISO9001:2000, TS-16949, and UL certified. The company's main areas of involvement are consumer electronics, medical devices, automotive electronics, aerospace, and defense.
Ronnie Electronics
Founded in 1988, RONNIE ELECTRONICS has been manufacturing high-quality printed circuit boards for customers for the past decades, is ISO9001, ISO1400, and TS16949:2009 certified, and is RoHS compliant. They are good at producing wide single-sided and double-sided PCBs, capable of producing high-precision single-sided PCBs with thin lines of 0.125mm and above. Their high professionalism and rich experience allow them to meet the needs of different customers. Their productivity is strong. The single-sided product is 140K square meters/month, and the double-sided PTH is 20K square meters/month. Major industries served to include consumer electronics, industrial equipment manufacturing, and automotive.
Silvtronics Sdn. Bhd.
Founded in 2003, Silvtronics is headquartered in Kuala Lumpur, Malaysia, and has manufacturing plants in Kuala Lumpur and Shenzhen, China, providing customers with PCB manufacturing and assembly services from prototype to mass production. All their manufacturing processes, quality, and cost are carefully supervised, ISO9001, TS16949 certified, IPC-A600, and IPC-A610 compliant. Good at prototyping and small-batch PCB production and assembly, with an independent small-batch production line to help customers quickly bring their products to market. They have provided services to 5,000 customers from more than 20 countries around the world, and have completed more than 30,000 projects. With their excellent PCB expertise and project experience, they have developed into one of the largest PCB suppliers in Malaysia.
Supreme PCB Solutions. Sdn. Bhd.
Supreme PCB specializes in the production of fast-turn, high-mix, and low-to-medium volume PCBs, serving customers from industries such as industrial equipment, medical, semiconductor, automotive, and more. They are proficient in the production and assembly of various PCBs including rigid, HDI, flexible rigid, flexible, and metal core PCBs. In addition, they can also provide schematic design, printed circuit board layout design, firmware development, mechanical design, reliability testing, design verification, and other services. They are certified with ISO9001, TS16949, ISO14000, and ISO13485 to ensure that every PCB delivered to customers is of high quality.
Vision Industries Sdn Bhd
Established in 1989, VISION is a microwave/RF PCB manufacturer with its manufacturing facility located in Penang, Malaysia. With unparalleled expertise and experience, they can always deliver highly reliable PCBs for various microwave/RF applications. They can manufacture double-sided PCBs with up to 18 layers, and they are capable of providing a variety of manufacturing options such as blind and buried vias, and standard and mixed dielectric structures. They have a good cooperative relationship with suppliers, which allows them to obtain reliable components and microwave materials in a short period of time. They comply with ISO9001, 14001, and UL standards, and their strict quality control process makes them a trusted Malaysia PCB manufacturing partner.
Final Thoughts
Malaysia's PCB market has strong development potential, and batches of excellent local PCB suppliers have emerged to provide high-quality services to global customers. If you want to know the information on PCB suppliers in Malaysia and choose the most suitable PCB manufacturer, you can refer to the information we have provided. Hope this article can help you, if you have other questions, please contact us now.