Japan is one of the largest PCB markets in the Asia-Pacific region and one of the global PCB production bases. With advanced PCB manufacturing technology, Japan dominates the global mid-to-high-end FPC market. It is capable of producing various high-end printed circuit boards, and its products are mainly high-end HDI boards, packaging substrates, and high-layer flexible boards.If your project has high requirements for the PCB used, it is a wise move to choose to cooperate with a Japanese PCB manufacturer. But facing thousands of PCB suppliers in Japan, do you feel that you don't know where to start? In this article, we have listed the top 10 PCB suppliers in Japan. It is always a good choice to cooperate with these top manufacturers, let's read on.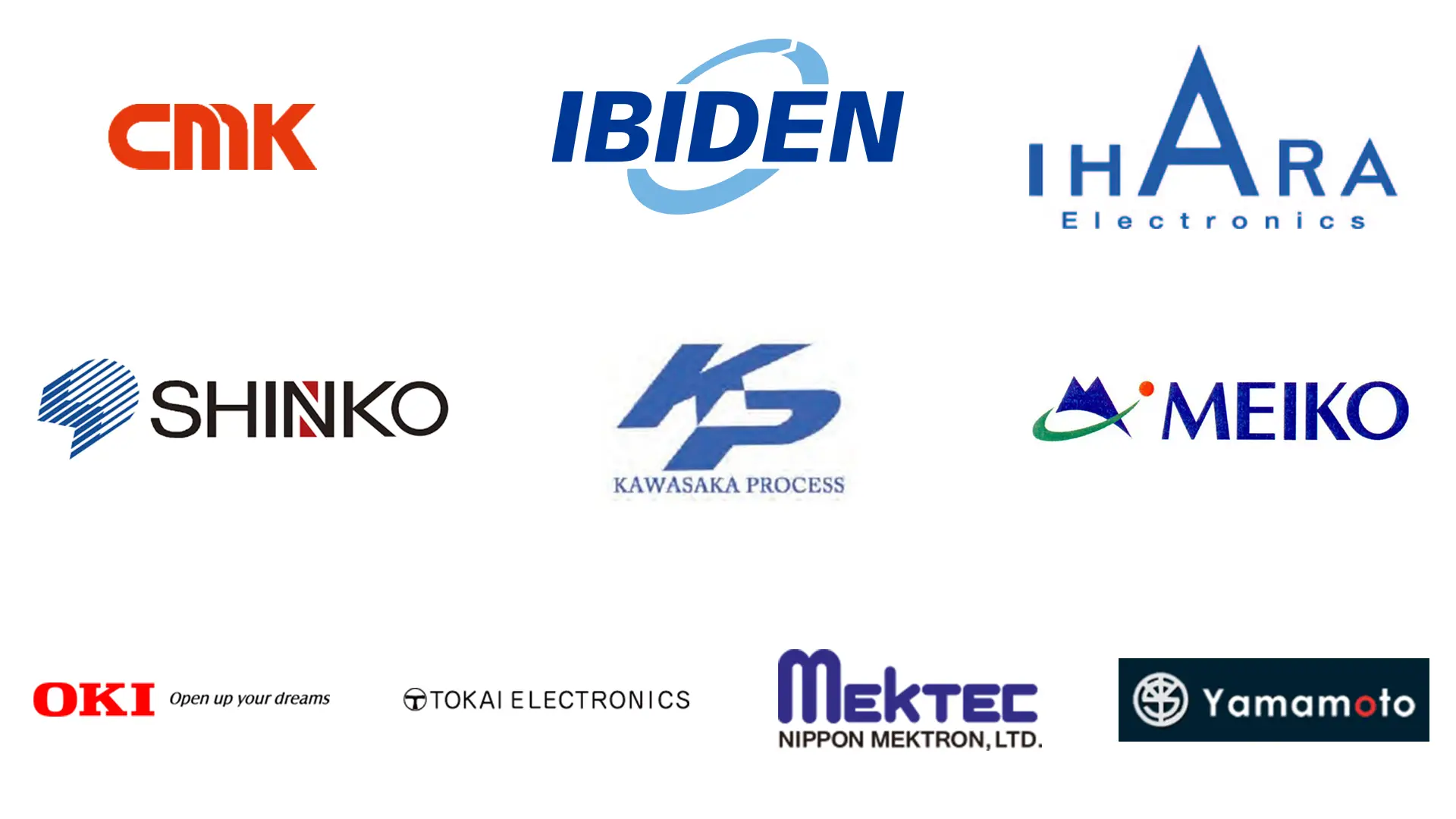 CMK
Founded in 1961, CMK Group is headquartered in Japan and has branches in the United States, Europe, China, and Thailand, with a total of 4656 employees worldwide. With its rich experience, advanced technology, and customer response speed, it has become one of the best PCB suppliers in Japan. The group provides a wide array of PCBs including double-sided printed circuit boards, multi-layer printed circuit boards, built-in wire boards, environmentally friendly printed circuit boards, and rigid-flexible circuit boards, and is especially good at providing automotive PCB services. The total production area of printed circuit boards produced within one year is 4 million square meters, 82% of which are automotive PCBs. The group has obtained the international quality management system standard ISO9001, the automotive industry international standard ISO/TS16949 (IATF 16949), and the environmental management system international standard ISO14001 certification.
IBIDEN CO., LTD.
Founded in 1912, Ibiden is headquartered in Ogaki, Gifu Prefecture, Japan. At that time, they were a power generation company. After decades of development, the company's business and products have gradually diversified, including building materials, printed circuit boards, and ceramic fibers. Today, this company's main business is electronics manufacturing, producing electronics-related products such as printed circuit boards and IC packaging. Focusing on printed circuit boards for high-end smartphones, it provides high-function, high-density printed circuit boards and supports the production of important components for small and high-function products. They have a 50% market share in Europe, and their clients include Apple, Intel, and PSA Group.
Ihara Electronic Industries Co., Ltd.
Since its establishment more than 50 years ago, Ihara Electronic Industries has been committed to developing and manufacturing various printed circuit boards, medical devices, electronic control equipment, and measuring instruments for customers. With the business philosophy of "providing valuable services", they have become one of the most popular Japanese PCB suppliers. They provide PCB design services, parts assembly, and system design services, and are proficient in various PCBs, from FR4 PCBs to metal, CEM-3 PCBs, and high-multilayer, high-density, and high-frequency circuit boards. Industries they serve include automotive, industrial, and aerospace. This company pays great attention to the control of product quality, and all production processes comply with UL, ISO9001, and ISO14001 standards.
Kawasaka Process Co., Ltd
Kawasaka was founded in 1981 and is located in Moriguchi City, Osaka Prefecture, Japan. They provide professional one-stop PCB services including design, manufacturing, and sale. They are proficient in handling various PCBs, from one side to multi-layer PCB, from flexible, rigid to flex-rigid printed circuit boards, moreover, they support transparent PET flexible material. Their flexible PCB services allow them to complete prototypes and volume production very quickly and ensure the best results and product quality for their customers. In addition, they have experienced designers who have designed PCBs for customers in various markets such as consumer electronics, automobiles, industrial, and so on.
Meiko Electronics Co.
Meiko is one of the most reliable PCB suppliers in Japan, established in November 1975, offering a wide range of PCBs for high-end applications such as high-density and high-function printed circuit boards for smartphones, high heat dissipation and high current circuit boards used in automotive engine rooms and solar power generation equipment. What's more, the company provides reliable PCB design services. By using the most advanced CAD system, they can quickly design the best PCB layout even in a limited space. In addition, they provide services such as component procurement, testing, and transportation to help customers flexibly respond to market changes.
Nippon Mektron
Nippon Mektron is a global leader in the manufacture of flexible printed circuit boards (FPCs). Originally founded in 1969 as a subsidiary of NOK Corporation, Nippon Mektron designs, produces and sells various types of FPCs including single-sided, double-sided, multi-layer, high-speed, and automotive grade boards. With over 550 employees across operations in Japan, China, Taiwan, Thailand, Malaysia and the United States, Nippon Mektron has grown to command an approximate 30% worldwide market share in FPCs. Their products end up in everything from smartphones and laptops to cameras, cars and medical equipment. Nippon Mektron aims to support the advancement of electronics worldwide through the continued development of FPC technology and reliable products.
OKI Circuit Technology
OKI Circuit Technology was established in October 2012 and merged with OKI Printed Circuits, a printed circuit board manufacturer under the OKI Group, in April 2021. It currently has 754 employees and grows up to be one of the best PCB manufacturers in Japan. The company provides integrated PCB services, from design and manufacturing to assembly and sales, and is committed to achieving new standards in printed circuit board performance, functionality, and quality, thereby enhancing the added value provided by electronic devices. In addition, they have rich experience in PCB design and can develop circuit boards for various electronic products including high-speed PCB, rigid-flex PCB, etc. Their high-quality service, extensive design expertise, competitive cost, and fast delivery make them one of the top-tier PCB suppliers in Japan.
Shinko Electric Industries Co., Ltd.
Founded in 1968, YKC Corporation is headquartered in Kodaira, Tokyo, and has production plants in China and Thailand. Its main services include the design, fabrication, and sales of various printed circuit boards used for electrical appliances, auto parts, and LED lights, such as double-sided, multi-layer PCB, thin rigid PCB, flexible PCB, LED PCB, etc. They provide rapid PCB prototyping as well as small batch production services, which can help customers develop new products in a short period of time. What's more, they follow strict quality control standards and have passed ISO9001 and ISO14001 certifications.
Tokai Shinei Electronics Industry Co., Ltd
Established in 1969, Tokai Shinei Electronics Industry provides one-stop PCB solutions. From PCB design, and manufacturing to sales, they have got you covered. Their in-house production allows them to better control product quality, they use advanced production equipment as well as inspection equipment, and from prototype to mass production, they can respond quickly and deliver on time while ensuring quality. They have obtained ISO 9002, ISO9001:2000, 14001:2004, ISO9001:2008, and ISO 9001:2015 certifications and are committed to pursuing high technology and high quality. The PCB they provide ranges from the ordinary rigid board (through hole), BVH substrate (Blind Via Hole) to impedance board, and the industry's first PIERD board (the company has obtained a patent).
Yamamoto Mfg. Co., Ltd.
Yamamoto Manufacturing was established in June 1945, formerly known as Kokueki Manufacturing Inc. It has branch offices and factories around the world, including California, Hong Kong, and Dongguan, China, their global location and flexible service enable them to make quick responses to customers worldwide. They are a trusted high-quality PCB manufacturer in Japan, specializing in high-density, multi-layer PCB production with the ability to handle double-sided sheets as well as PCBs up to 50+ layers. In addition, they also provide PCB design services. They have extensive experience in offering PCB layout design services for customers in diverse industries such as medical, automotive, industrial, and so on.
Final Words
This article introduces the top 10 PCB suppliers in Japan and aims to provide readers with some references to help them better understand the excellent PCB suppliers in this country. In addition, it can also help those people who need to find PCB manufacturing partners in Japan and make a better choice. If you have any suggestions or ideas, please contact us to discuss them together!