Electronics manufacturing in Europe has a long history and will continue to grow in the future. According to reports, from 2021 to 2028, the size of the electronics manufacturing market in Europe is expected to grow at a compound annual growth rate of 7.1%. This is mainly due to advancements in production technology and increasing demand for electronics across the globe. In addition, Europe brings together many of the world's top electronics manufacturers. With unparalleled electronics manufacturing experience and strong production capacity, they produce all kinds of electronic products, from consumer electronics to industrial equipment and medical equipment, which circulate in every corner of the world and improve people's lives. In this blog, we list the top 10 electronics manufacturers in Europe, let's explore them one by one.
Asteelflash
Asteelflash, a member of USI (SSE: 601231), Universal Scientific Industrial (Shanghai) Co., Ltd., is one of the top 10 electronic manufacturers in Europe. With more than 6,000 employees across 17 manufacturing locations worldwide, Asteelflash is committed to providing exceptional technical expertise, innovative manufacturing solutions, and high-quality service to all partners.
Their comprehensive services range from co-design and engineering to mass production, serving a variety of industries including automotive, medical, and industrial. Asteelflash is devoted to providing customers with integrated EMS solutions ranging from Printed Circuit Boards Assembly, Box-Build Assembly, to Full Product Assembly, Testing, and Fulfillment, efficiently bringing their customers' products to life.
BMK Group
BMK was established in 1994 and headquartered in Augsburg, Germany. It is recognized as one of the leading electronics manufacturers in Europe, which provides one-stop EMS solutions from electronics development, and electronics manufacturing, to quality control and other after-sales services. This company has extensive experience and expertise in areas, including automation, energy and environmental technology, automotive, medical, communication, and so on. In addition, they have flexible production capability with 4 facilities located in Germany, the Czech Republic, Israel, and China. More importantly, they have high requirements for product quality, they are certified with ISO 9001:2015, IATF 16949, ISO/IEC 80079-34:2011, EMAS III, etc.
Éolane
Éolane is a French company that specializes in electronic manufacturing services and engineering services. Founded in 1975, Éolane has over 40 years of experience in the industry and has become one of the best electronics manufacturers in Europe. The company has a strong presence in France, with over 3,500 employees working in 13 locations across the country. In addition to its operations in France, Éolane also has facilities in other parts of Europe, as well as in North Africa and Asia. Éolane offers a wide range of services, including design and development, prototyping, industrialization, manufacturing, and after-sales support. The company has a global customer base and works with both large multinational corporations and small and medium-sized enterprises.
Fideltronik
With more than 30 years of experience in the market, Fideltronik is the largest electronic manufacturing services provider in Poland. The company offers comprehensive end-to-end solutions to global engineering and manufacturing leaders, encompassing everything from cutting-edge design and rapid prototyping to high-volume production and post-sale services.
Fideltronik prioritizes its customers' success and strives to support its product competitiveness by minimizing production costs and accelerating time-to-market. This is made possible by leveraging their Smart Factory, where advanced technology, artificial intelligence, and industrial analytics are combined to create an innovative ecosystem for highly complex projects. Even in a high-mix, low-volume model, Fideltronik delivers superior results and helps its clients achieve their goals.
GPV Group
With over 60 years of industry experience and insights, GPV is one of the top electronics manufacturers in Europe. Their team of over 7,500 employees delivers comprehensive solutions, including electronics manufacturing, in-house mechanics and cable-harness, mechatronics, and box-build services, as well as ODM design & engineering and test development services. With production sites located in Europe, Asia, and the Americas, GPV has a global reach and can provide unparalleled support to its clients.
GPV's customer-centric approach is a major advantage, as they prioritize their clients' needs and offer access to leading experts at all levels. Their superior technological know-how helps clients realize their accomplishments and improve their competitive position, making GPV a top choice for electronics manufacturing services.
Kitron
Kitron is a prominent Electronics Manufacturing Services company based in Scandinavia, offering enhanced flexibility, cost efficiency, and innovation capabilities throughout the value chain. The company operates in various countries such as Norway, Sweden, Denmark, Germany, Poland, and China. Founded in the early 1960s in Arendal, Norway, Kitron has grown to become a leading player in the EMS industry, with its headquarters now located in Asker, Norway. The company specializes in several key sectors including connectivity, electrification, medical, healthcare, defense, and aerospace. Furthermore, Kitron is expanding its expertise in the Automotive industry, with a particular focus on Autonomous Technologies.
Lacroix Electronics
For over 50 years, LACROIX's Electronics division has been a trusted partner in the design and production of high-quality electronic assemblies and sub-assemblies. With a global network of production sites and a cutting-edge design office, the company is committed to advancing a more innovative and responsible industry.
Their solution is time-to-market focused and offers complete control of your product's entire value chain while keeping costs and deadlines at optimal levels. A dedicated team of experts with industrial and R&D skills will guide your project from the initial design stage all the way through to production.
With the support of their project management, purchasing, supply chain, and training services, they specialize in the development of embedded systems and industrial connected objects (IIoT) for applications in their target markets. Their expertise spans four crucial phases: design, industrialization, fabrication, and sustainability of electronic assemblies. LACROIX's team is committed to delivering innovative, sustainable solutions that meet the needs of its customers and help drive their success.
Scanfil
For more than four decades, Scanfil has been a reliable manufacturing partner and system supplier client in the global electronics industry. Fueled by a commitment to design and a passion for their customers' prosperity, the company is at the forefront of industrial transformation, with a particular emphasis on sustainability and human-centric management. This approach empowers Scanfil employees to discover new ways to enhance their customers' lives and value chains every day. Scanfil offers a comprehensive range of services, including electronics manufacturing, mechanical assembly, production outsourcing, supply chain management, prototyping, and testing. Their products find applications in various fields, such as Energy & Cleantech, Connectivity, Automation & Safety, Advanced Consumer Applications, and Medtech & Life Science.
Videoton
Videoton is a leading, fully integrated contract manufacturing company, providing professional services in the region, and is recognized as one of the largest electronics manufacturers in Europe and worldwide. With specialized manufacturing capabilities and expertise in certain product areas, Videoton produces a wide range of high-precision equipment, custom-made shelters, rechargeable battery packs, heavy-duty industrial fans, filtration systems, steel fabrications, and special-purpose machines.
Leveraging its traditional technologies and skill sets, Videoton is a versatile supplier of parts, modules, and assemblies in various fields, such as electronics, plastic injection molding, stamping, machining, precision machining, tooling, and surface treatment. With its comprehensive range of services, Videoton is a trusted partner for businesses seeking reliable and cost-effective manufacturing solutions.
Zollner Group
The Zollner Group originated in Zandt, Bavaria in 1965 and remains a 100% family-owned corporation to this day. Through continuous organic growth, the company has become one of the top 15 electronic manufacturing services providers in the world. They prioritize personalized, one-on-one support, starting with comprehensive consulting and extending through all phases of their partnership with clients.
With 24 locations spread across Germany, Romania, China, the USA, Switzerland, and Costa Rica, this company emphasizes quality, optimal value, technological innovation, and a local-for-local strategy throughout the entire value chain. Whether they're dealing with individual parts, modules, devices, or complex systems, the client retains control over the decision-making process.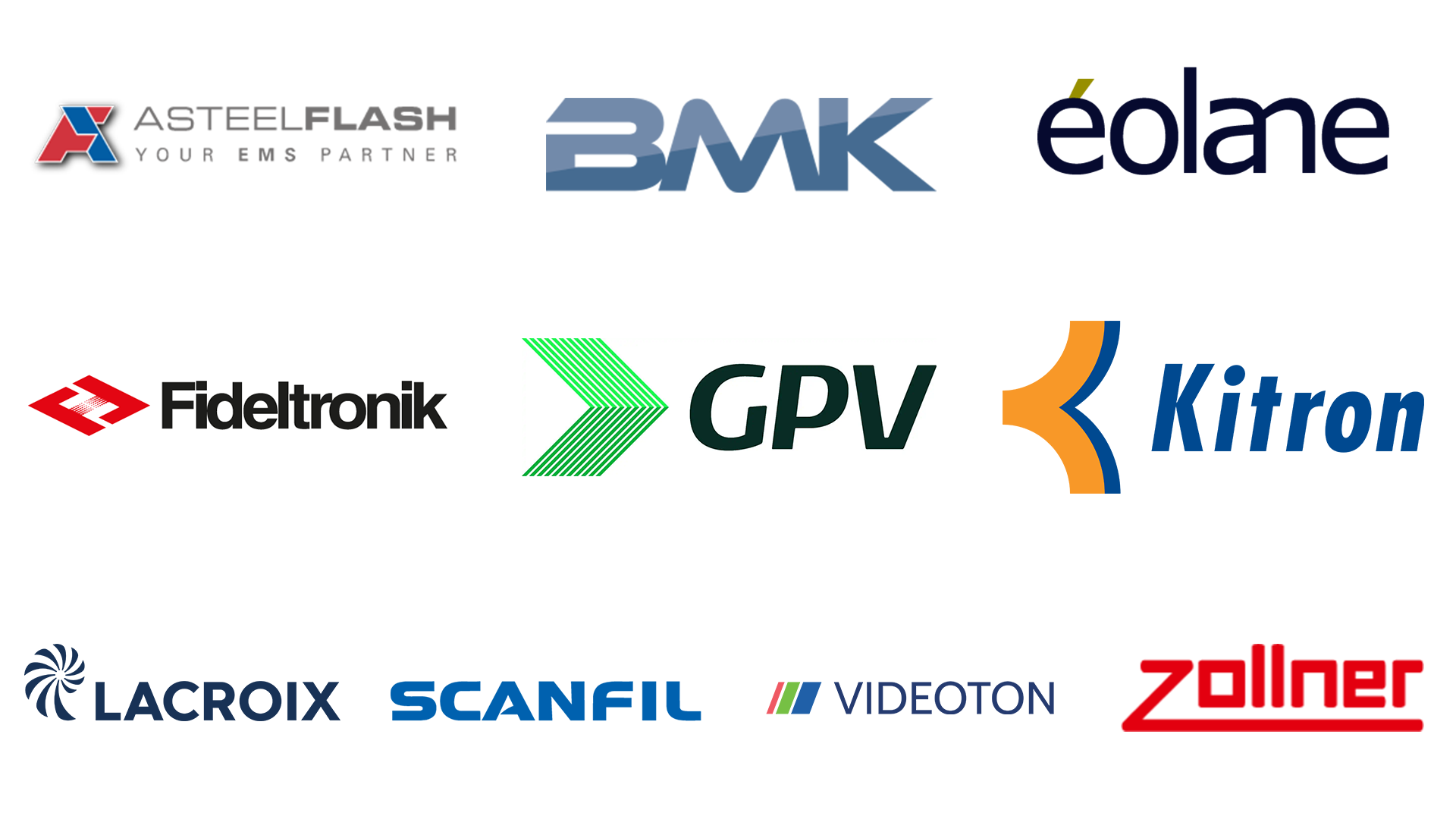 Conclusion
Europe is home to some of the most innovative and reliable electronics manufacturers in the world. The top 10 electronics manufacturers in Europe have a strong commitment to quality, research and development, and sustainability, which has helped them to maintain their position in the highly competitive electronics industry. They have also been able to adapt and innovate in response to changing market conditions, which has helped them to stay ahead of the curve and continue to meet the evolving needs of their customers. MOKO Technology, as a participant who has been working in the EMS industry for many years, has drawn up this list of the best electronics manufacturers in Europe with our rich experience and references from various sources. Hope it will be helpful to readers. If you have other questions or suggestions, please contact us.