The electronics manufacturing industry in North America has undergone significant changes over the years. From being a major player in the 1990s to facing stiff competition from countries like China and South Korea, the industry has had its share of challenges. However, in recent years, the industry has seen a resurgence. On the one hand, the transition of North American electronics manufacturing to advanced manufacturing technologies such as Industry 4.0 has helped manufacturers simplify processes, improve quality control, and reduce costs. On the other hand, the growing demand for electronics products in the region, especially the increasing emphasis on sustainability by consumers is driving the electronics manufacturing industry in North America. Overall, the electronics manufacturing industry in North America is well-positioned for growth in the coming years. And there are many top electronics manufacturers in North America, in this blog, we will discuss them one by one. Let's read on.
Benchmark Electronics, Inc.
Benchmark Electronics, Inc. is an American company that provides engineering and manufacturing services to customers in various industries, including aerospace and defense, medical devices, industrial control, automation, telecommunications, and computing. The company was founded in 1979 in Clute, Texa, at that time, they were also a manufacturing subsidiary of Intermedics, specializing in low-volume, complex medical product assembly. Now they have become one of the top electronic manufacturers in the United States. Their operations span various countries, which include the United States, Mexico, China, Malaysia, and the Netherlands. The company's services include design and development, prototyping, production, and aftermarket support.
Celestica Inc.
Celestica was founded in 1994 that has grown to become one of the top-rated electronics manufacturers in North America. Their business scope covers a wide range of services in the electronics manufacturing industry, including design, manufacturing, and supply chain solutions that leverage global expertise at every stage of product development – from ideation to full-fledged production and beyond, including the after-market. They focus on providing high-quality solutions to their customers in various sectors and help their clients bring their products to market quickly and efficiently while maintaining high quality and compliance standards. This company has a global presence, with operations in the Americas, Asia, and Europe. And their mission is to deliver innovative solutions and exceed customer expectations through their technology, experience, and global resources.
Creation Technologies LP
In 1991, Creation Technologies was established with the goal of aiding OEMs in meeting the evolving and challenging technological landscape by delivering customized, cost-effective, and timely solutions to their customers. As one of the largest electronics manufacturers in North America, they have 14 manufacturing facilities located in different regions around the world, which enables them to provide a more localized approach to manufacturing and distribution. In addition, They specialize in offering integrated EMS solutions from design, and manufacturing, to supply chain, order fulfillment, and aftermarket solutions. And they can handle both small and large-scale production runs and can adjust to meet changing customer needs, more importantly, they have a reputation for producing high-quality products and services.
Jabil Inc.
Jabil Inc. is headquartered in St. Petersburg, Florida, USA, and was established in 1966. This company is a leading global manufacturing solutions provider that offers design, engineering, supply chain management, and manufacturing services to customers across a diverse range of industries, including healthcare, consumer electronics, automotive, and more. It is known for its strong commitment to quality and sustainability, as well as its innovative solutions and exceptional customer service. The company operates over 100 facilities in 30 countries and has more than 260,000 employees worldwide. Jabil helps customers to bring their products to market quickly and efficiently, while also providing after-sales support and supply chain management. The company's expertise includes additive manufacturing, automation, digital prototyping, and intelligent supply chain management.
Key Tronic Corporation
Key Tronic Corporation is a leading electronics manufacturer that provides electronic manufacturing services (EMS) to original equipment manufacturers across a diverse range of industries. The company's suite of services includes product design, engineering, printed circuit board assembly, plastic molding, supply chain management, and logistics. Key Tronic operates globally with manufacturing facilities in the United States, Mexico, and China, along with sales and support offices worldwide. Since its inception in 1969, the company has been based in Spokane Valley, Washington, USA. Key Tronic is recognized for its dependable and top-quality products, as well as its ability to provide customized and cost-effective solutions that cater to its clients' unique requirements.
Kimball Electronics, Inc.
Kimball Electronics, established in 1961, is a globally renowned electronics manufacturer with a commitment to high-performance culture, quality, reliability, value, speed, and ethical behavior. Their end-to-end solutions encompass engineering, design, and manufacturing, including contract Electronics Manufacturing Services, Diversified Contract Manufacturing Services, and Automation, Test & Measurement services. They serve customers in the automotive, medical, and industrial markets and their integrated global footprint, stringent quality systems, customer relationship management, and supply chain support help them deliver award-winning service.
Plexus Corp.
Plexus was established in 1979 and headquartered in Neenah, Wisconsin, USA. It is known as one of the best electronics manufacturers in North America, which provides end-to-end product design, engineering, and manufacturing solutions, including printed circuit board assembly, cable assembly, and final product assembly. By utilizing their extensive experience and expertise, they help customers around the world to turn their concepts into products on shelves. With a workforce of over 25,000 team members worldwide, they strive to offer customers an unparalleled product realization experience coupled with exceptional customer service, setting new standards in the electronics manufacturing industry. And they have many facilities located in the Americas, Europe, and Asia Pacific regions, providing highly reliable electronic manufacturing services at fast turnaround times.
Sanmina Corporation
Established in 1980, Sanmina has rich experience in providing one-stop EMS solutions that cover design, engineering, PCB assembly, system assembly, supply chain management, and aftermarket services. As one of the most famous electronics manufacturers in North America, Sanmina has a workforce of over 40,000 employees worldwide and operates manufacturing facilities in North America, Latin America, Europe, and Asia. Their strong production capability allows them to provide high-quality products and services to customers in different industries such as communications networks, computing, and storage, medical technology, defense, aerospace, automotive, and so on. They place a strong emphasis on quality and reliability and are certified with ISO 9001, ISO 14001, and ISO 13485.
Sypris Electronics LLC.
Sypris Electronics is a reputable supplier of electronic solutions that cater to the needs of customers who require intricate and high-priority electronic and electromechanical devices, as well as integrated systems. Their range of engineering and manufacturing services covers the early stages of NPI and product development, all the way to the production of finished electronic products that are safe, secure, and fully equipped to meet the needs of customers' end-users. Sypris collaborates with partners from various agencies and top-tier corporations in the Military (DoD), Space, Civil Avionics, Telecom, and Industrial markets to create highly dependable electronics that comply with strict regulatory requirements. Their area of expertise is in intricate systems that function in harsh environments, and they are renowned for their inventive engineering outlook that is derived from their long-standing OEM history.
SMTC Corporation 
Established in 1985, SMTC Corporation is a leading provider of comprehensive electronics manufacturing services (EMS) that encompass PCBA production, enclosure fabrication, systems integration, and thorough testing services. Additionally, SMTC offers supply chain management services, sustaining engineering, and product design. The company has operations in Mexico, China, Canada, and the United States, and its services cover every phase of the electronic product life cycle, from new product development and introduction to end-of-life phases, including growth and maturity. SMTC is considered a mid-sized corporation.
SMTC provides comprehensive contract manufacturing solutions that cater to global OEMs and up-and-coming tech firms. And they have rich experience in serving a variety of markets such as medical, semiconductor, industrial, telecom, networking, and communications, as well as defense and aerospace.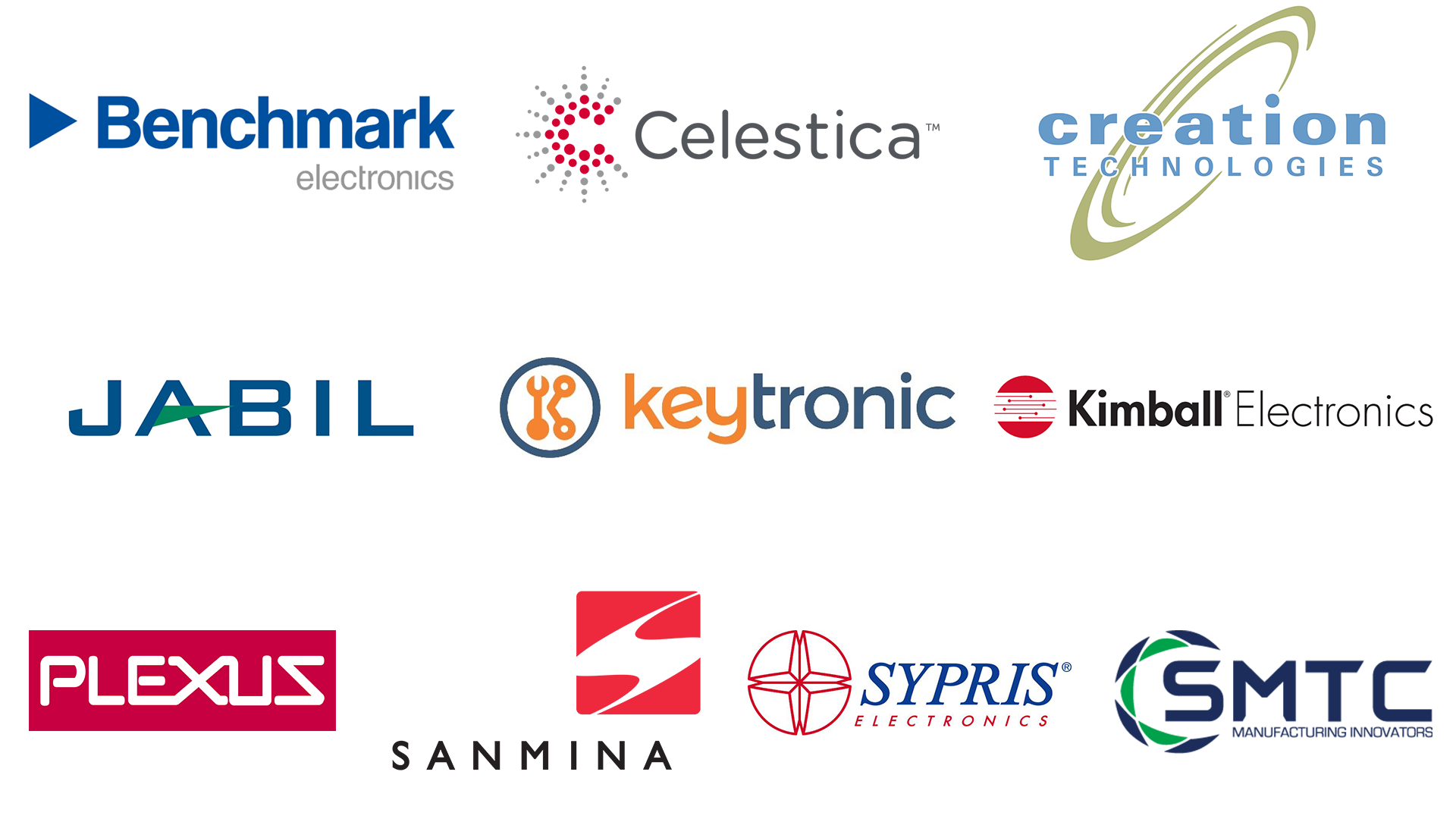 Final Thoughts
In conclusion, the North American electronics manufacturing industry boasts some of the biggest and most innovative names in the sector. From Celestica, Jabil, and Sanmina to Plexus and Kimball Electronics and so on, these companies have been instrumental in driving technological advancements across the globe. With their commitment to quality, innovation, and sustainability, these top electronics manufacturers are well-positioned to continue leading the industry for years to come. Their products and solutions have undoubtedly revolutionized the way we live, work, and communicate, and we can expect even more exciting developments from them in the future.