According to GlobeNewswire, the European PCB market is expected to reach USD 2020.9 million by 2025, with an annual growth rate of 1.53% in 2020-2025. It can be seen that the European PCB market is huge and developing rapidly. The main driving force for the development of its PCB market is the European automotive industry, the medical industry, and the market demand for PCBs in the Internet of Things industry. It is worth mentioning that Europe accounts for nearly 40% of the global Internet of Things market, which has a huge impact on the PCB market. The above are some macro introductions to the European PCB market. Next, we will focus on the top 10 PCB suppliers in Europe to understand their business scope and capabilities.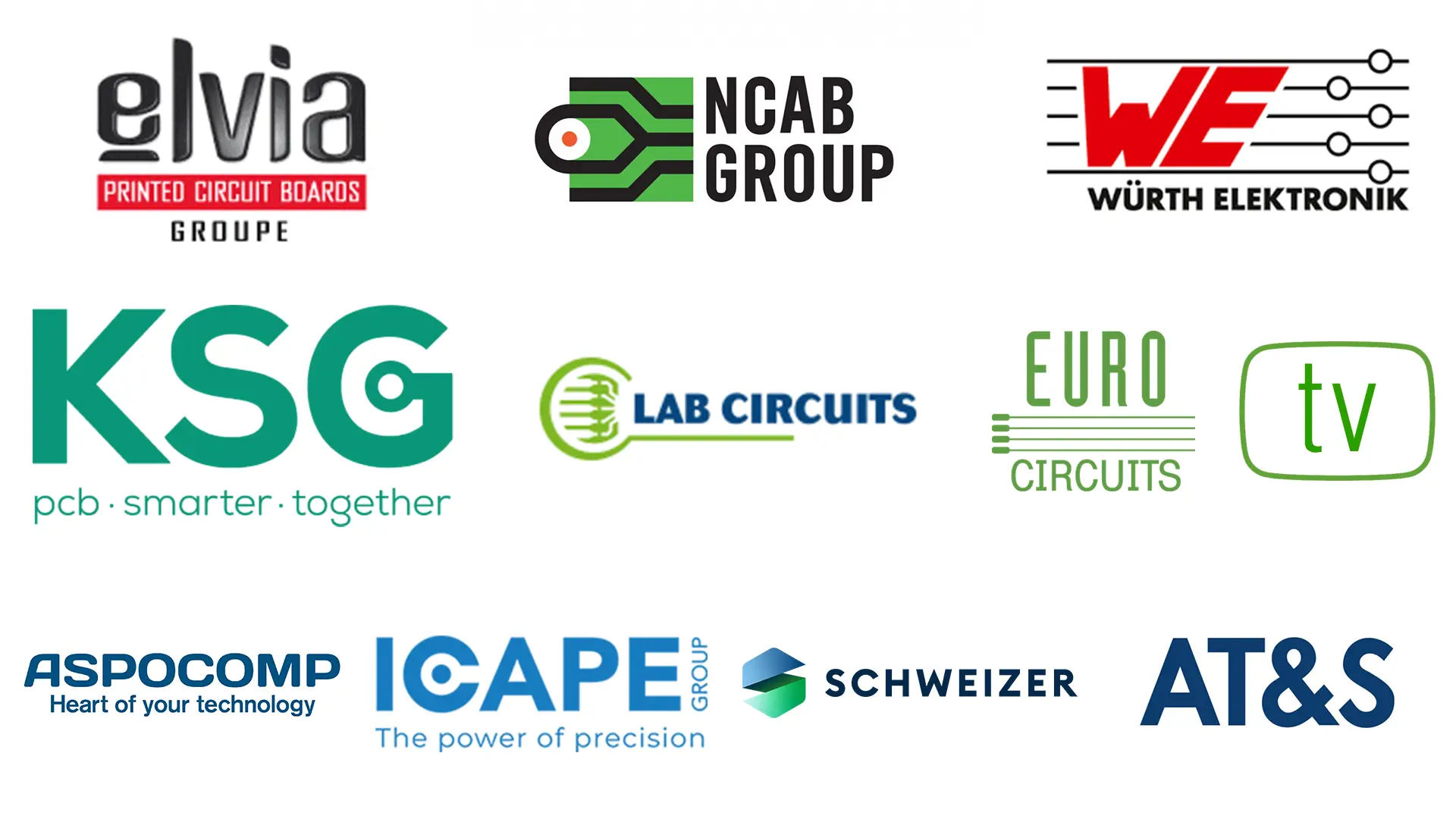 AT&S
AT&S, headquartered in Austria, is one of the foremost PCB suppliers in Europe and a leading global provider of high-end printed circuit boards and IC substrates. For over 30 years, AT&S has been at the forefront of technological progress, leveraging its advanced capabilities in multi-layer, high-frequency, flexible, rigid-flex, HDI and IC substrate PCBs to facilitate new developments across a broad range of industries. AT&S makes PCBs for medical devices, industrial equipment, and products in the communications industry. Focused on high-end technologies and quality control, they provide feasible PCB solutions to meet the needs of demanding customers worldwide.
Aspocomp
Aspocomp was founded in 1979 and went public in 1999. They are a PCB manufacturer and supplier with their own factory in Finland and a network of partners in Europe and China. They provide quick-turn PCB services that can deliver high-quality boards in the shortest possible time, and they also provide value-added services such as design support, logistics solutions, and more. Utilize their deep PCB knowledge to provide the highest quality products to customers from automotive, semiconductor, telecom, industrial, security, and aerospace. Their factories and production processes are in accordance with the highest international quality standards, in line with ISO 9001:2015, ISO 14001:2015, IATF 16949:2016, and AS9100D certification.
Elvia PCB
Elvia PCB Group is one of the best PCB suppliers in Europe and the number one PCB manufacturer in France. It was founded in 1976 and headquartered in Normandy, France. In addition, it has 4 facilities: ELVIA NORMANDY, ELVIA BRITTANY, ELVIA LOIRE VALLEY, and ELVIA BREE, with a total of 450 employees. They offer a wide range of printed circuit board types, including PTC PCB, multilayer PCB, rigid-flex PCB, RF&Microwave PCB, metal core PCB, and large-size PCB, which can meet different customer needs well. Serving customers in diverse markets such as Automotive, Industrial, Medical, and Telecom, they are also the European PCB leader in the Aerospace and Defense field.
Eurocircuits
Eurocircuits is a specialist manufacturer and assembler of PCBs for prototypes and small batches, established in Belgium in 1991 and currently employs around 450 people. They are an international company with branches in many countries including Germany, Hungary, India, France, Germany, Spain, and so on. They are committed to providing complete electronic services, including PCB assembly, manufacturing, component supply, optimized PCB design, etc., to help customers quickly bring projects to market. At present, they provide PCB manufacturing and assembly services for nearly 20,000 customers every year and are recognized as one of the most reliable PCB suppliers in Europe.
ICAPE Group
Based in France, the ICAPE Group has extensive experience in the production of printed circuit boards and custom technical parts, and since 1999 they have provided a reliable and high-quality PCB service. With a global team of 600, they serve 70 countries around the world and deliver 26 million PCBs and 6 million technical parts every month. In addition, they have 80 strategic partners in Asia, and their service office is located in Dongguan, China. Their global footprint allows them to better meet customer needs. They are good at providing aluminum, single-sided, double-sided, multilayer, HDI, RF&Microwave PCBs, and ensure the best quality, best service, and most cost-effective price.
KSG GmbH 
KSG GmbH is a leading European manufacturer of high-value PCBs with a KSG factory in Gornsdorf, Germany, and a PCB factory in Austria. Founded in 1878, the KSG Group specializes in the development and manufacture of PCBs in Europe for the international market. With their accumulated rich experience in the industry, they have become a technology leader and pioneer in HF solutions as well as high current and thermal management. They can produce kinds of circuit boards, including HDI, multi-layer, thick copper, semi-flexible, and rigid-flex PCBs, and are good at producing PCBs that operate in small spaces and producing circuit boards that control huge devices. They have never been sloppy about quality, and have passed various certifications such as IATF 16949, ISO 9001, and UL.
Lab Circuits
Founded in 1972, Lab Circuits is located in Barcelona, Spain. Its facilities cover an area of 4,000 square meters. It has highly specialized professionals and provides one-stop PCB solutions. From initial design development to prototyping to mass production, they have got you covered. They use the most advanced digital technology to manufacture printed circuits from 2 to 30 layers, can provide high-quality PTH, and HDI printed circuit boards, are good at laser drilling micro-holes, buried holes, and other technologies, and can handle various PCB materials. Their factory is located in Santa María de Palaautoordera, and all production processes are in compliance with ISO 9001:2008, ISO 14001, UNE-EN 9100:2010, UL, RoHS and REACH certifications, you don't have to worry about quality issues when working with them.
NCAB Group
Founded in 1993, NCAB is a leading PCB supplier in Europe, headquartered in Sweden, and has offices in 15 countries around the world, including China, Denmark, Finland, Malaysia, and the United States, serving customers in 45 countries. With strong production capabilities, they deliver printed circuit boards to customers on time at the lowest total cost without compromising product quality. They offer PCB sourcing services, which allows them to provide customers with zero-defect PCBs on time. In terms of production, a team of experts monitors the site to improve the production process and ensure product quality. In addition, they provide technical support services. Their turnkey PCB service can help customers shorten their time to market and increase competitiveness.
Schweizer Electronic 
Located in the Black Forest region, Germany, Schweizer Electronic AG is a family-managed company with more than 174 years of experience. Now, they have developed to be a renowned PCB manufacturer in Europe and even in the world. Leveraging their extensive expertise, they have become the first choice for custom PCB solutions across diverse sectors. With 1000 employees and 3000 square meters of daily production capacity, Schweizer has the scale and resources to meet the most demanding requirements for PCBs and embedding solutions. Their cutting-edge PCB technologies are used in challenging applications in sectors like automotive, aviation, industrial, medical, and so on.
Wurth Elektronik
Würth Elektronik Group has about 8,000 employees worldwide, with operations all over the world and three business divisions in the international market, and PCB is one of their most important business divisions. They established Würth Elektronik Circuit Board Technology in 1971, which specializes in providing high-quality PCB manufacturing services. Today the company has become a leading PCB manufacturer in Europe with three plants in Germany. They have a wealth of technical knowledge and experience, from the initial design concept to prototype and medium series and high-volume production, they provide a one-stop service. They provide customers with complete personalized support, whether it is complex or simple PCB, they can meet customer requirements.
Conclusion
MOKO Technology has a deep understanding of the European PCB market since we have been in the field of PCB manufacturing for 16 years, offering excellent PCB and PCB assembly services for customers around the world. With our experience and reliable reference materials, we have listed the top 10 PCB suppliers in Europe, hoping to help readers and inspire them. If you are looking for a reliable PCB manufacturer in Europe, but still don't know how to choose, you can refer to this list, it will be a good choice to work with these top manufacturers. Click here to contact us directly for more information!