The electronics manufacturing industry in South Korea has grown rapidly over the past few decades and is now a major destination for electronics manufacturing services globally. This is mainly due to the country's government's strong investment and support in research and development and infrastructure. The country has a solid reputation for producing high-quality electronics, from smartphones and tablets to semiconductors and electronic components, and its skilled workforce, advanced technology, and favorable business environment have attracted many global companies to partner with Korean EMS providers. In this blog, we'll discuss the top 8 electronics manufacturers in South Korea, highlighting what they offer, their history, their achievements, and more. If you want to choose a reliable electronics manufacturing company in Korea, then this blog will enlighten you.
Hanwha Techwin
Hanwha Techwin is a South Korean company that specializes in the production of surveillance cameras, video surveillance solutions, and other security products. It is recognized as one of the top 10 electronics manufacturers in South Korea. The company was founded in 1977 and is headquartered in Seoul, South Korea, and it has a global presence, with sales and support teams located in over 50 countries. Hanwha Techwin offers a wide range of products for various applications, including cameras, network video recorders, digital video recorders (DVRs), and so on.
One of the key strengths of Hanwha Techwin is its focus on innovation and technology. The company invests heavily in research and development to develop cutting-edge products and technologies that can help its customers to improve their security systems. In addition, Hanwha Techwin has a strong commitment to quality, and its products are renowned for their reliability and durability.
IRIVER
Founded in 1999, IRIVER is a Korean consumer electronics manufacturing company and one of the top electronics manufacturers in South Korea. Specializes in the production of portable digital audio and video players, and other digital devices such as smartphones, digital cameras, and portable storage devices. Their first product was a portable music player, and many other digital devices have since been produced. The company has a strong reputation for innovation and its products have won numerous awards, including multiple CES Innovation Awards.
Today, IRIVER continues to produce a line of high-quality digital equipment popular with music and technology enthusiasts worldwide.
LG Electronics
LG Electronics was founded in 1958 and has since become one of the largest electronics manufacturers in Korea. LG Electronics became the largest shareholder of LG Display after acquiring Zenith in 1995. It is now one of the world's top producers of consumer electronics and home appliances, as well as the second largest TV manufacturer globally.
Headquartered in Yeouido-dong, Seoul, South Korea, LG Electronics belongs to LG Corporation, which is considered to be one of the main sources of income for the LG Group. This company has 128 operations and 83,000 employees around the world, it operates in several business areas, including home entertainment, mobile communications, home appliances, air solutions, and vehicle components.
MagnaChip Semiconductor Corporation
MagnaChip Semiconductor Corporation is a company based in South Korea and the United States that specializes in designing and manufacturing analog and mixed-signal semiconductor products. It was established in 2004 as a spin-off from Hynix Semiconductor and has its headquarters in Seoul, South Korea, with facilities and offices located throughout Asia, Europe, and North America. Over time, MagnaChip has become one of the leading electronics manufacturers in South Korea.
The company offers a broad range of products that serve diverse applications, such as display drivers for LCD and OLED panels, power management integrated circuits (ICs), audio and video processing chips, and sensors for mobile devices, consumer electronics, automotive, and industrial markets. MagnaChip is dedicated to delivering top-notch products and services to its customers and is well-known for providing innovative solutions that cater to their needs.
Partron Corporation
Established in 2003 as a spin-off from Samsung Electro-Mechanics, Partron is now the top comprehensive components company globally. The company's founding principle is to grow alongside its customers by providing competitive and timely product supply. Partron achieved its position as the primary supplier of antennas, camera modules, and various sensors to Samsung Electronics' flagship smartphone models by continually developing its technological capabilities.
Partron's product line extends beyond the smartphone market, supplying electronic components to domestic and international electronics and automobile manufacturers. The company has factories located in China and Vietnam and sales offices in China, Europe, and the USA.
Partron offers a diverse range of electronic devices, including Smart Bands, Bluetooth Headsets, Smart Thermometers, Medical Devices, and Wireless Chargers. The company also provides a variety of electronic parts such as isolators, antennas, RF modules, camera modules, and sensors. Partron's excellence in engineering, manufacturing, quality control, customer service, and cost competitiveness is universally recognized by its customers worldwide.
Samsung Electronics
Headquartered in Yeongtong-gu, Suwon, South Korea, Samsung Electronics was founded in 1969 and has grown to be a multinational electronics corporation with production plants and a workforce of over 300,000 employees in 74 countries. Samsung Electronics is considered to be one of the economic pillars of the Samsung Group, as reported, its revenue in 2021 is about 244.4 billion U.S. dollars.
Samsung Electronics is known for its innovation and cutting-edge technology, particularly in the semiconductor industry, where it is the world's largest manufacturer of memory chips and a major producer of logic chips. They specialize in manufacturing electronic components such as sensors, camera modules, lithium-ion batteries, semiconductors, and displays, they cooperate with well-known brands including Apple, Sony, HTC, and Nokia.
SK Hynix
SK Hynix is a global leading semiconductor manufacturer headquartered in South Korea. The company was established in 1983 as Hyundai Electronics, and in 2012, it was acquired by the South Korean conglomerate SK Group and renamed SK Hynix. SK Hynix is known for producing various memory products, including dynamic random-access memory (DRAM), NAND flash, and solid-state drives (SSDs). These products are used in a variety of applications such as smartphones, personal computers, servers, and data centers. The company has manufacturing plants in South Korea, China, and the United States, and has sales offices and research and development centers around the world. Its strong and flexible production capabilities and innovative technology have enabled the company to continually grow and become a leader in the industry, renowned for producing high-quality and reliable memory products.
Simmtech Co., Ltd.
SIMMTECH has been focused on the development and production of high-layer PCBs for semiconductors since it was founded in 1987. SIMMTECH leverages its world-renowned manufacturing competitiveness to produce cutting-edge PCBs for leading semiconductor companies worldwide. The company's primary offerings include module PCBs for semiconductor memory expansion and substrates for semiconductor chip assembly. SIMMTECH's memory module PCBs, BOC boards for DRAM packaging, and Embedded Trace Substrates have received the Korean Government's "World Class Products" award, and the company holds the largest market share in the world. As a core supplier of packaging substrates to Tier-1 semiconductor customers, SIMMTECH is at the forefront of technological innovation.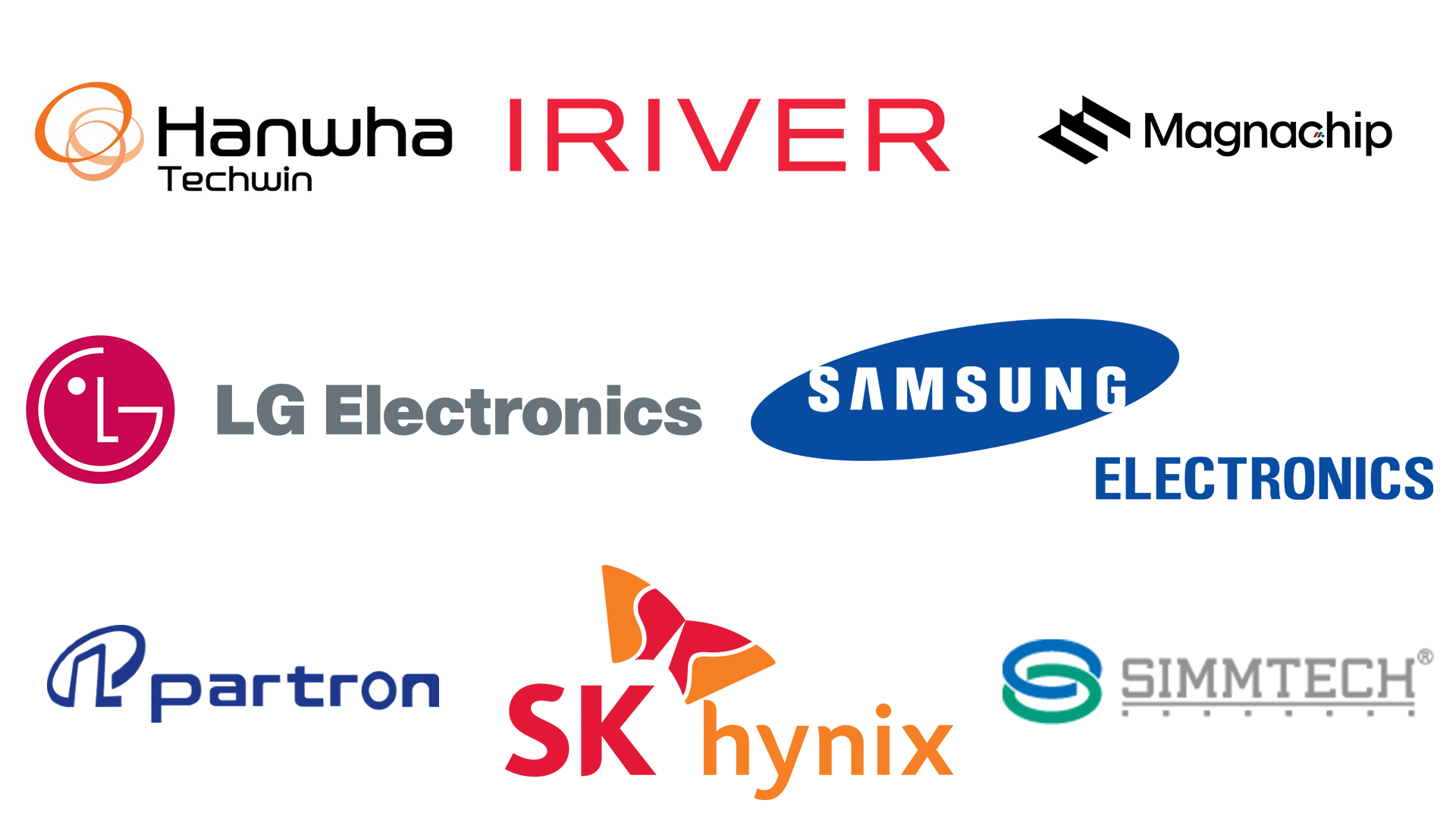 Conclusion
In a nutshell, these top Korean electronics manufacturers have rich experience, advanced technology, and deep expertise to provide high-quality products to customers from all over the world, constantly breaking the boundaries of the electronics world, leading other suppliers to continue to Innovation to promote the development and progress of the electronics manufacturing industry. Whether it's a simple or complex electronics manufacturing project, these Korean electronics manufacturers are sure to meet your needs. MOKO Technology has nearly 20 years of experience in the EMS industry, and we have a deep understanding of the entire electronics manufacturing market in South Korea. If you want to know more about Korean electronics manufacturers, feel free to contact us.