With the rapid growth of global electronic manufacturing demand, many electronic manufacturing companies have emerged in the market. If you are considering outsourcing electronic manufacturing to these companies, there are many factors you need to consider before making your final decision. Choosing a reliable electronic manufacturing partner from so many different companies isn't easy, but don't worry, in this article, we'll go over the key factors to consider when choosing electronic manufacturing companies to help you make the right decision. Without further ado, let's get started now.
Quality Control
Quality is always the first concern, working with an electronic manufacturer that has stringent quality control is essential as an unqualified product can ruin your reputation and business. On the one hand, you can check their certifications such as ISO9001, ISO13485, UL, IPC, and so on, which can demonstrate their commitment to high quality and ensure that they comply with industry regulations and standards. On the other hand, you can check their quality control process, especially how they inspect and test products, like what kind of testing methods they used, or if they would perform 100% inspection before delivery, which ensures that each product performs as expected and avoid any potential flaws.
Project Experience  
Why risk letting a newbie handle your project when you can choose to work with an experienced electronic manufacturer? When choosing electronic manufacturing companies, one must consider their experience and expertise, preferably if they have worked on similar projects before, so they can better match your project needs. Experienced companies understand the requirements of different industries, so they can always manufacture products that meet industry standards, and you never have to worry about quality. More importantly, they can make accurate market forecasts based on previous project experience and flexibly respond to changes.
Engineering Services
A good electronic manufacturer should not only provide manufacturing services but also engineering services so that when they receive your project requirements they can assess if your project is a sound design. If not, they can provide improvements or redesign your project. Typically, electronic manufacturing companies hire professional engineers with extensive experience in various fields such as production engineering, mechanical engineering, microelectronic, etc., to ensure that the final product can achieve excellent performance.
Advanced Technologies and Facility
It's of vital importance to know what kind of technologies and equipment your electronic manufacturer used. Advanced technologies and facilities can definitely perform manufacturing than outdated ones. Drawing on the latest technologies, they can fabricate products with high reliability and fast speed, which can also help you improve market competitiveness. So before making the decision, you can ask the manufacturer to provide their equipment list, or more directly, you can just visit their manufacturing site to check their equipment, ensuring their facility and manufacturing process can follow the latest industry standards.
Turnaround Time
It is also important to ensure that their turnaround times match your project timeline, especially for projects that require high volume production, which can determine whether your product can be brought to market on time. Therefore, you must confirm the production capacity of these electronic manufacturers to ensure that they can deliver products to you on time. Reliable electronic manufacturing companies have the ability to complete manufacturing with fast turnaround times. Because they use industry-leading machinery and equipment that can speed up production, they have a stable supply chain around the world, which allows them to obtain materials and components without delay.
Supply Chain Management  
Finally, when choosing electronic manufacturing companies, you should know about their supply chain, you should ask whether they have a stable and flexible supply chain and how they manage it. To meet different requirements, electronic manufacturers usually work with different suppliers around the world, otherwise, their procurement will be very limited, which can lead to project delays. Another important benefit is that they can quickly access the latest global market information, including supply shortages, price increases, etc., which is conducive to planning ahead, avoiding risks, and solving potential problems.
Choose MOKO Technology as Your Electronic Manufacturing Partner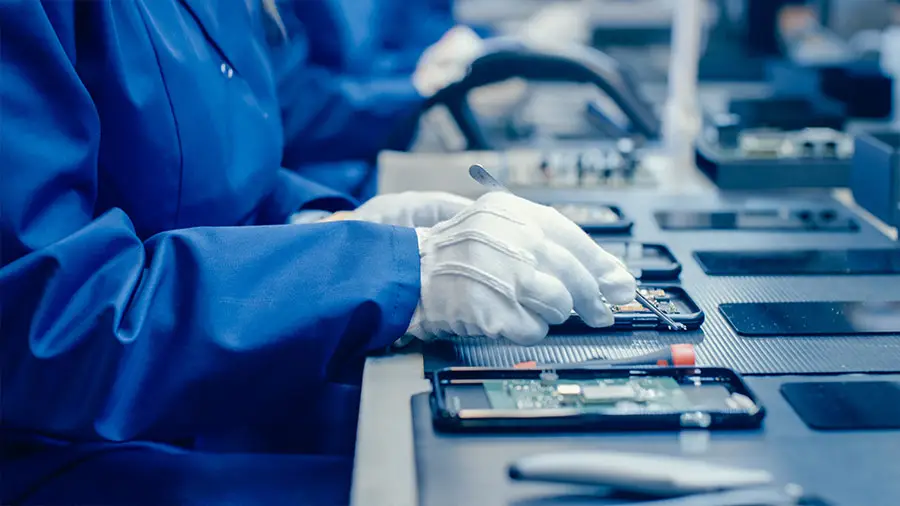 MOKO is committed to providing the most reliable electronic manufacturing service to our customers around the world. With our large amount of project experience, we are confident to handle various electronic manufacturing projects, from simple to complex ones. More importantly, we provide one-stop services, ranging from designing, component sourcing, and manufacturing, to electronic assembly, testing, and after-market service. Our engineers are experts in electronic manufacturing who would work with you closely to offer technical support and workable solutions, working with us can fill your expertise gap. As a leading electronic manufacturer in China, we are pride to manufacture high-quality products for about 16 years and get good comments from our clients. If you are looking for a reliable electronic manufacturer, look no further, MOKO is your best choice.