Are you considering a flex circuit for your product? These boards are perfect choices for various applications due to their incredible characteristics.
In the future, the trend of flexible PCB is dramatically increasing. So you will find it in all electronic devices. So it is very important to know about a few important aspects of this technology.
This article will guide you about the different important aspects. For example, what's the manufacturing steps of flex circuit boards, which factors you should consider before purchasing and manufacturing circuit boards. Let's don't beat around and bush and come straight to the topic!
The manufacturing steps of flex circuit boards
The overall manufacturing method is procedural. So let's break it down for better understanding. Here are the three major manufacturing steps:

Step 1: Flex PCB Build Up
It is a primary phase to manufacture flex PCB. Our main focus is to assist you to save base material. It is important if you want a flexible circuit at lower costs. Remember, the main material used for the flex circuit is polyimide. This material is expensive as compared to FR-4. So you need to use it properly.
To save polyimide, it is important to keep circuits close with each other as much as possible. You can achieve it by using the nesting technique. Almost all circuit layouts contain four segments per panel. However, by nesting, you can maximize it to the sixteen segments per panel. Indeed, you can increase the yield by correctly nesting.
I. Looping
You can add a slight amount of extra material to the flex circuit beyond the designer's limit. This small amount of extra material commonly known as a service loop. Looping enhances the servicing length and assembly of the circuit. You can use it when needed.
II. Sizing conductor
It ensures the greatest flexibility of the circuit. So it is worth to select the thinnest copper. Especially when you want to use the circuit for dynamic applications.
III.   Etching
This process takes place by utilizing the etching factor. You can use this tool to compensate for any isotropic loses in the manufacturing process. During the etching process, line width loss is almost twice the copper foil thickness. However, many factors impact the line width. The factors include different types of copper, conductor, equipment and etch mask.
IV. Routing of the conductors
You can achieve routing of the conductors on a flex circuit easily. All you need to do exactly right on the perpendicular position to the bend and fold. It improves the folding and bending by reducing stress in these specific regions.
V. Ground Planes
You should create ground areas crosshatched if the electrical allocation is adequate. Afterward, you can improve the flexibility of the circuit. All you need to reduce the weight of the circuit board.
Step 2: Flexible Printed Circuit Board Fabrication Process
In this section, we will elaborate on the process happened on the boards. Let's start first with the conductor spacing and width.
Common conductor width requires 375 micrometers when using polymer think films. Nominal Polymer Thick Films have the capability of carrying the current. However, silver-based polymer films carry almost 25 percent of the circuit current. The diameters for through holes in flexible PCBs should be 200 to 250 micrometers. However, this can vary depending upon the design and application.
I. Sizing of the holes
It's possible for the manufacturer to create holes as small as possible. These types of vias make capable of the flexible PCB layout to be well inclined. With the rise of technology, you can create very small holes. Manufacturers are now capable to create 25 micrometer small holes.
II. Filleting
The pads and land termination points on the flexible circuits need filleting. By using this technique, you can multiply the area of the pad and distributes the stresses. Plated through-holes are very good. It is because they are appropriate to make a reliable solder joint.
III.   Button Plating
This method creates a substitute plated through-hole. The only difference is that manufacturers use copper to create vias and through-holes.
Step 3: Consider Physical constraints and possible chemical
In this step, manufacturers concentrate on some other useful components of Flex PCB. So we will basically deal with cover layers and cover coating issues. There are many types of cover coating and have many unique traits.
Here are some of the most common cover layer used in the manufacturing process are:
I. Adhesive-backed films
This type is appropriate for dynamic flex circuit apps. It is because it contains balanced raw material. In fact, majority manufacturers use adhesive-backed films for over-coating.
II. Screen-printable liquid overcoats
Do you want to save your expenses? It is highly recommended to go with screen-printable liquid overcoats. It is pocket-friendly and has common usage along with polymer thick film.
III.   Photo imaginable liquid and film polymers
It is a new and most advanced method of over-coating. After imaging coats, you can use it to view the termination features of the flexible PCBs. A major benefit of this coating is that it is not linked with any irregularities. As you experience with other cover layers.
It has some surprising functionalities. Here are some important functions of this cover layer:
This polymer acts as a solder mask so it prevents the solder from circuiting traces.
It protects the printed circuits from physical and external damages.
Harbors the circuits from different external electrification.
Overall, flexible PCBs are mostly manufactured by utilizing these three steps. This process can vary from one manufacturer to another.
What to consider before FPC manufacturing?
The usage of flex circuits offers you a huge variety of interconnections and reliability. Moreover, they offer lighter weight, durability and compressed construction. There are different materials and manufacturing options are available for flex boards. This new emerging technology has a bright future. So here are some important things you need to consider before manufacturing it: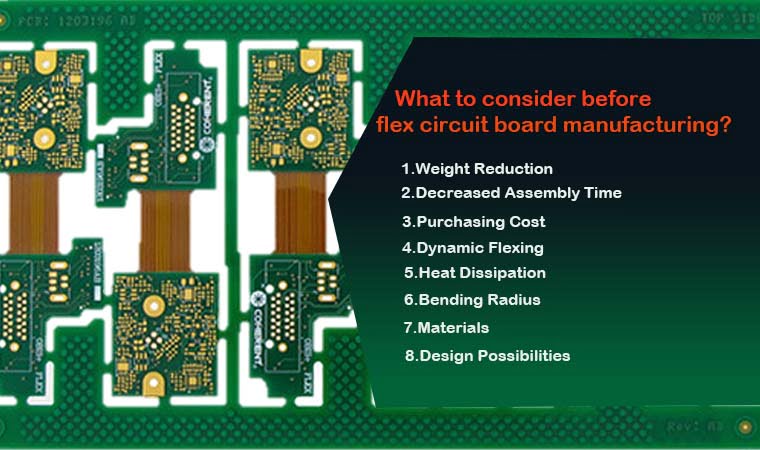 Weight Reduction
By utilizing flexible circuits, you can reduce the weight of different electronic packages. It is because they don't have reinforcements. In addition, they are higher in density as compared to unfilled polymers. So you should choose a suitable material for weight reduction.
Decreased Assembly Time
If the circuit boards are more flexible, it means they won't break during manufacturing. Flex circuit boards are not fragile so there is the least risk of breakage.
Purchasing Cost
Most people consider it costly. Yes, it is a fact that flexible circuits are costly. However, if you have a look at the price and durability, it may outrun the cost. All you need to pick a reliable manufacturer. Reliable manufacturers provide durable and long-lasting circuit boards. Thus, if you spend a few extra bucks, it will not get wasted.
Dynamic Flexing
It is another important factor to buy polyimide having extremely thin copper foil. It is ideal for different dynamic flexing applications. You can use a thicker flex for a bend and stay application.
Heat Dissipation
Heat dissipation is better on the flat copper tracks. Instead of wire surrounded by insulation material. It makes the flexible circuit the finest choice in different applications. The application in which heat resistance is a crucial factor.
Flexible circuits are more resistant to heat as compared to other types of PCBs. So always consider this factor for circuit boards to resist heat. Luckily, the flex circuit has this capability by default.
Bending Radius
It depends on the thickness of copper and the overall thickness of the circuit boards. Moreover, it also depends on the number of total bending layers. Here is the flex circuit types and their least bending capabilities:
A single-sided flex circuit contains 3 to 6 times bending capability. Double-sided flex circuits offer 7 to 10 times bending capability. Dynamic flex application contains almost 20 to 40 times bending ability.
Materials
PI is the most common material for flex circuits. Some other materials are also available for board construction such as PET, LCP, and PEN. If you want reliable products, polyimide is the top priority.
Advantages of Polyimide
Here are a few pros of polyimide:
Ideal flexibility at all temperatures
Having excellent electrical priorities
Containing amazing resistance ability against tear and chemicals.
The highest tensile strength
Disadvantages of Polyimide
Here are a few cons of polyimide:
It is quite expensive than PEN.
If you use it with an adhesive system, temperature performance becomes worse.
Polyimide absorbs moisture up to 3%.
Design Possibilities
Flex circuit boards have a lot of design possibilities. You can customize the design of FPCB according to your needs and requirements.
Common challenges of flex circuits and their solutions
Here are some of the most common flexible circuit board issues that a designer faces:
Solder mask

While applying the cover film or solder mask, it can affect underlying traces. The PCB manufacturers should take these factors into account while manufacturing FPCB. The design and construction procedure should recompense for these shortcomings.
Solder Pads

There must be enough space between the copper trace and solder pad. If manufacturers fail to implement this condition, it can affect reliability. Moreover, it also affects the durability of the flexible PCB. The solution to this problem is straightforward. So a team of expert engineers should manufacture to avoid such problems.
Solder Joints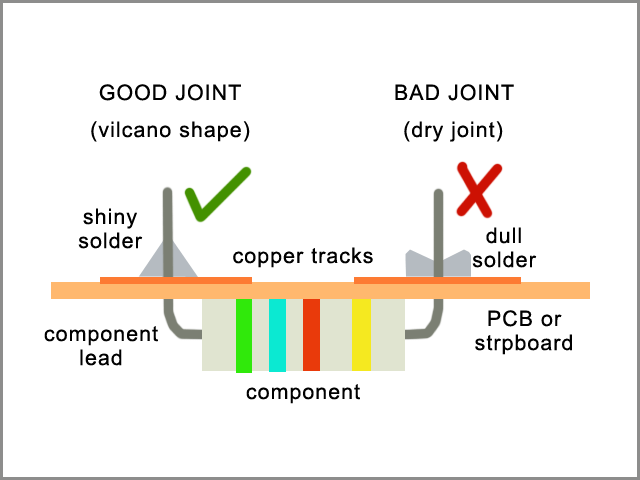 It is a procedure to join copper trace and solder alloy by using solder. Solder mask can cover an entire space of the circuit boards. Sometimes trace becomes very rigid if an inexperienced member of this. Poor solder joints can easily lead flexible PCBs to crack during folding or bending. Thus, it is important to do this job by a proficient engineer for durability and reliability.
Flexible PCB cost and how to decrease the cost?
It is extremely important for manufacture and buyer to estimate a flex board cost. There are different factors for measuring PCB cost. By considering different factors, you can estimate the overall cost. It will help you to pick a suitable manufacturing company.
The layer is the most important factor that can be costly. If a single side-flex is quite enough, never try to go for more layers. Cost also depends on the used material. If you use polyimide or similar material it will cost more. Minimum size vias give you more reliability and durability so they cost more.
You can decrease the cost of flexible PCBs by choosing cheap constructive material. So overall, the flex boards have high costs but high durability on the same side. It makes the circuit boards fair in price.
MOKO Technology
Flexible PCB capacity 
MOKO Technology is one of the leading flexible circuit board manufacturers. There are many factors that make it the most dominant circuit board designer in the PCB world. Here are the most important factors:
MOKO Technology manufactures a reduced weight and space PCBs for high efficiency.
It meets the dynamic flexing requirements.
MOKO Technology increases the reliability and repeatability of the circuit boards.
The company uses high-quality material for manufacturing that makes flexible circuit durable.
The thermal management i.e. heat dissipation is phenomenal of MOKO technology.
It provides uniform and ideal electrical characteristics for high-speed circuitry.
Flex circuits offered by MOKO technology have easier installation capability and services.
All customized circuit boards are available at an affordable price.
MOKO Technology has a proficient team of engineers. They manufacture circuit boards carefully to prevent any issue in the future.
Specification 
MOKO Technology is one of the leading manufacturers of flexible printed circuit boards. They provide the highest quality circuit that is durable and reliable. Here are some of the characteristics of flexible circuit boards manufactured by MOKO Technology:
Number of Layers: Usually flex circuit boards contain 1 to 10 layers. If you want a circuit board with more layers, you can still contact to customize a board according to your needs.
Maximum PCB Dimension: MOKO technology offers 500x 1100 mm. They facilitate you for greater size as well.
Board Thickness: the common thickness of the board is from 0.4 to 2.4 mm. For example, boards having 0.4, 0.6, 0.8 and 1.0 are available. To meet your needs, you can contact MOKO Technology.
Board Thickness Tolerance: Boards have around plus-minus 10% thickness tolerance. Normally, "+ Tolerance" will occur because of PCB processing steps that include solder mask, electroless copper, and other types of finish on the board's surface.
Min Spacing between pads: The minimum manufactural space is around 4mil. To save cost, the design can have 6mil spacing.
Outer Layer Copper thickness: Most of the times outer layer copper has 35, 70 and 105-micrometer thickness. You can measure these in the term of copper weight. For example, 1oz, 2oz, and 3oz. If you want a layer with more than this weight, you can contact to MOKO Technology for further changes.
Inner Layer Copper Thickness: The thickness of the inner layers is usually 1oz=35 micrometer to 1.5oz=50 micrometer.
Drill Sizes (CNC): The range of drill size is from 0.2 to 6.3 mm.
Min Width of Annular Ring: It is 0.16 mm.
Solder Mask: MOKO Technology uses Liquid Photo-Imageable LPI. For inexpensive paper-based boards, they use thermosetting ink.
Solder Mask Color: Green, Red, Blue, Black, White, and Yellow are the most popular colors for Solder Mask.
Min Character Width: It is 0.15.
Min Character Height: MCH is almost 0.8 mm. It is extremely difficult to recognize if the height is less than 0.8.
Types of Surface Treatment: HASL with lead, HASL lead-free and Immersion gold are the most popular types of surface treatment. For other types of finishes, please contact MOKO Technology.
Lead time
The lead time for manufacturing a flex circuit is the time required for flex PCB assembly. This time excludes holidays and weekends. The time starts from the second working day after confirmation of working Gerber. Moreover, the time starts after resolving all engineering queries and order payment.
This time depends on the complexity, type, and specifications of the circuits. Generally, this time varies from one company to another. Prototype Flex PCB almost takes 4 days. Mass production flex PCB takes almost 7 days for completion. Prototype and mass production flex PCB assembly take 3 and 5 days respectively. So, if you want an urgent inquiry, you can contact MOKO Technology. They offer amazing services with the best quality circuits.